WATCH! Susan Boyle's Christmas song slip-up
The Scottish songstress suffered a coughing fit midway through her rendition of Christmas carol, O Holy Night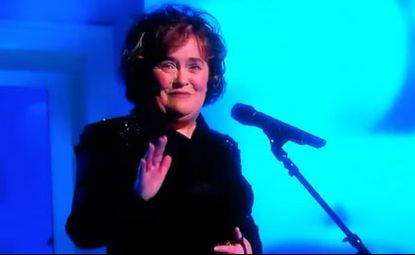 (Image credit: Rex Features)
The Scottish songstress suffered a coughing fit midway through her rendition of Christmas carol, O Holy Night
Oh dear Susan Boyle. The Scottish Britain's Got Talent songstress showed that even superstars make mistakes sometimes, when she suffered an on-air slip-up during a live performance in the US.
TALENT SHOW WINNERS AND LOSERS!
Susan was appearing on prestigious American show The View when she bungled her song, the Christmas carol, O Holy Night.
The singer was nearly halfway thorough the festive hit when she suffered a coughing fit, forcing her to stop the song.
But it seems Susan didn't realise she was on live TV, as after bringing her singing to a halt, she signalled to producers, saying 'Can we do it again?' Oops.
Luckily, show hosts Sherri Shepherd and Whoopi Goldberg rushed to her side to save the day, with Sherri reassuring her: 'Oh my God, beautiful,'
Susan soon cottoned on that she couldn't sing again, and made the best of the situation, by joking: 'I'm sorry, I had a bit of a frog in my throat'.
East Coast Amercan viewers witnessed Susan's slip-up live on air, but it's thought the star was able to record the song again for the rest of the US.
WATCH Susan's slip-up here…
Earlier this week, it was revealed a duet with Rihanna could be in the pipeline, after the starlet Tweeted her excitement to followers.
'Hold up! I might be a lil late, but just heard that THE SuBo wants to collab wit ME??!?' (sic) Rhianna wrote: 'I'm game, doesn't get much cooler than this.'
Now that we can't wait to hear!
TALENT SHOW WINNERS AND LOSERS!
Celebrity news, beauty, fashion advice, and fascinating features, delivered straight to your inbox!