Victoria Beckham: I screamed when I saw Beyonce wearing my dress
Ms Beckham was thrilled to see Beyonce in one of her designs at an Obama fundraiser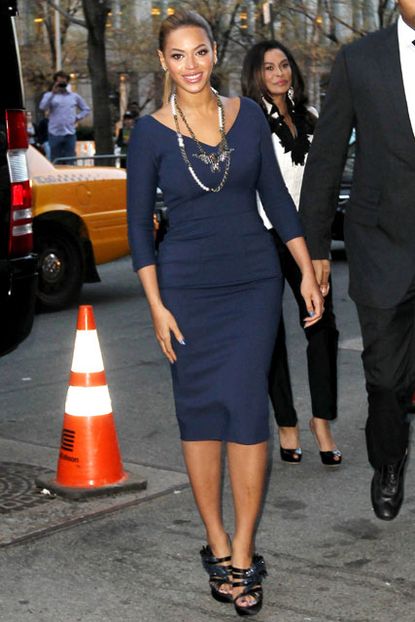 (Image credit: Rex Features)
Ms Beckham was thrilled to see Beyonce in one of her designs at an Obama fundraiser
Victoria Beckham was so thrilled to see Beyonce in one of designs this week that she screamed.
The Love On Top singer wore one of Ms Beckham's dresses to an Obama fundraiser, organised by First Lady Michelle Obama, in New York this week and the designer was understandably over the moon.
'She was one hot mama, for sure,' she told Extra. 'I mean, Beyoncé is absolutely beautiful and has the most phenomenal body, she really does. She looks great, she really does.
'I was very excited when I saw it online. I screamed! I was like, "Look, David, look!" I still get so, so excited. She's incredible and also an artist that I have so much respect for. I'm a huge, huge Beyoncé fan. It was big for me.'
BEYONCE STEPS OUT IN A VICTORIA BECKHAM DRESS
Speaking at the Latin Music Awards, where David Beckham presented his pal Marc Anthony with the Founders Award, she went to say that she is still overwhelmed by the success of her label.
THE BECKHAMS ATTEND THE LATIN MUSIC AWARDS
'I feel proud of myself, proud of my team,' she said. 'And I just want to make women feel good about themselves. I want to empower women. I want to make them feel happy and confident and as long as women are out there buying the dresses, I'm going to carry on doing what I feel really, truly blessed to do.'
Being married to David isn't to be sniffed at either!
THE STARS LOVE VICTORIA BECKHAM DRESSES
Celebrity news, beauty, fashion advice, and fascinating features, delivered straight to your inbox!