Theresa May is Britain's new Prime Minister: Here's what you need to know about her
The Home Secretary is set to be Britain's next Prime Minister now that Andrea Leadsom has pulled out of the race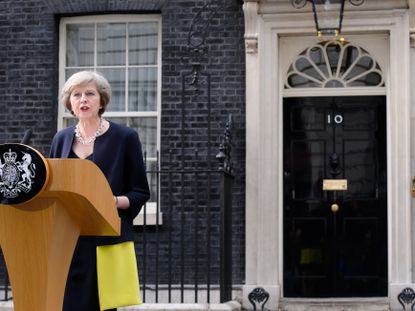 (Image credit: Rex Features (Shutterstock))
The Home Secretary is set to be Britain's next Prime Minister now that Andrea Leadsom has pulled out of the race
Theresa May has been sworn in as Britain's Prime Minister, following Andrea Leadsom's decision to end her leadership bid and David Cameron having officially resigned on the 13th of July.
Leadsom was Theresa May's only remaining contender for the Tory leadership bid, but after failing to win enough support from Tory MPs (84 agreed to back her, less than 25% of the party) she announced her withdrawal from the race.
With no remaining rivals, this left Theresa May on target to be Prime Minister when David Cameron stepped down. So, here's what you need to know about our new PM.
How long has Theresa May been in politics?
Nearly two decades. May has been in parliament since 1997, when she was elected Conservative MP for Maidenhead. She very quickly rose up the ranks, joining William Hague's shadow front-bench opposition (Shadow Spokesman for Schools, Disabled People and Women), then moved to Transport under Iain Duncan Smith's shadow cabinet. She was the first female Chairman of the Conservative Party - appointed to this position in July 2002.
How long has she been Home Secretary for?
Since 2010. Only three women before her have held one of the Great Offices of State (that's Prime Minister, Chancellor, Foreign Secretary and Home Secretary) and having held the position since 2010, May is the longest serving Home Secretary in 100 years. The three other women are Margaret Thatcher (PM), Margaret Beckett (Foreign Secretary) and Jacqui Smith (Home Secretary).
She has been criticised for her handling of (among other things) passports and Operation Trojan Horse
In mid-2014 May came under fire for her handling of Operation Trojan Horse, an alleged plot to spread Islamic extremism in Birmingham schools. This brought about a row with fellow cabinet minister Michael Gove, who publicly accused the Home Office of failing to 'drain the swamp' of extremism in schools. May's Special Advisor Fiona Cunningham was subsequently sacked. She was also criticised in mid-2014, when a backlog of new microchip passports lead to travel chaos.
Videos you may like:
Video you may like:
What Theresa May's stance on immigration?
May has toughened up immigration laws. This includes the Immigration Act of 2014 which prevents landlords from renting houses to people without legal status, as well as blocking illegal immigrants from obtaining driving licenses or setting up bank accounts.
More from Marie Claire: 17 of the most powerful female world leaders
Was she pro-Remain or pro-Brexit in the EU Referendum?
May took a quiet anti-Brexit stance, though her apparent unwillingness to be a prominent voice in the Remain campaign build-up has prompted some political experts to suggest she was playing things cautiously in the event of a leadership bid.
How is Theresa May viewed by her peers?
May is generally respected in parliament, even by opposition MPs who strongly oppose her policies. Interestingly - unlike Boris Johnson - she has never sought out popularity. Writing in The Guardian last year, journalist Gaby Hinsliff said Theresa 'doesn't yearn to be liked. During speeches she sometimes talks through applause, as if approval were the last thing she needed. May is often compared with that other no-nonsense female leader, Angela Merkel but there is an echo too of Gordon Brown.' Westminster insiders say she is no-nonsense and 'unflappable'.
What did Theresa May's speech tell us about her main aims as Prime Minister?
Her speech showed a surprisingly centrist approach, with a striking number of policies that mirrored her previous opposition leader Ed Milliband. She has announced a crack-down on inflated company salaries as well as on tax avoidance, vowing to put workers on the boards of companies to control salaries for the people running their company - 'If I'm prime minister, we're going to have not just consumers represented on company boards, but workers as well' - as well as putting pressure on big global companies to pay taxes. She has also addressed the country's social divisions. 'If you're black, you're treated more harshly by the criminal justice system than if you're white. If you're a white, working-class boy, you're less likely than anybody else to go to university. If you're at a state school, you're less likely to reach the top professions than if you're educated privately' she says.
Watch Theresa May's full candidacy campaign speech here:
Was she born into money?
Unlike many of her fellow cabinet members, May has relatively humble roots. Born in 1956, she is the daughter of a clergyman and was educated at state primary and grammar schools, before reading Geography at Oxford (she got a First). She worked at the Bank of England between 1977 and 1983 and as a financial consultant. Her first step into politics came when she served as Councillor for the London Borough of Merton from 1986 to 1994.
Who is Theresa May's husband?
Theresa Brasier became Theresa May when she married Phillip May in September 1980. They met at an Oxford Tory disco, where they were introduced by the former prime minister of Pakistan. Phillip May is a successful banker, who has worked at Deutsche Asset Management and is now Relationship Manager at Capital Group. The couple do not have any children.
Why does everyone go on about Theresa May's shoes?
May loves clothes and isn't averse to sticking her neck out sartorially - see the Vivienne Westwood suit she made her campaign speech in - and is known in particular for her leopard print shoes (below).
Celebrity news, beauty, fashion advice, and fascinating features, delivered straight to your inbox!