'Sad' Rihanna to sack staff after missing Katy Perry's wedding
The star has said she'll 'never forgive herself' for skipping her pals nuptials, and is moving management companies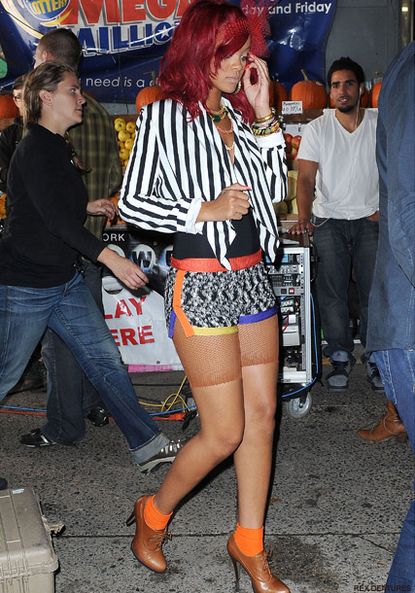 (Image credit: Rex Features)
The star has said she'll 'never forgive herself' for skipping her pals nuptials, and is moving management companies
Rihanna has revealed she will 'never forgive herself' for missing best pal Katy Perry's wedding, and is sacking her management staff for giving her an unmanageable workload.
SEE RUSSELL AND KATY'S WEDDING PICS HERE!
The 'sad' Rude Boy songstress was expected to be Maid of Honour at the special Indian ceremony, but instead had to skip the nuptials to work on her album.
And it seems she already regrets the decision, and has decided to sack her management company because of it.
'I will never ever forgive myself for that,' she told US radio host Ryan Seacrest, of missing Katy's extravagant wedding.
'It was a crazy time, it was a crazy week. I'm switching management,'
'There was no phone service in India and very little-to-no internet service, so it would have been a little irresponsible of me.
'I'm sad that I missed it.'
It seems Katy and Russell were still hoping Rihanna would make it, but were completely understanding when she couldn't fit it in.
'It was always sort of up in the air that she would go anyway, and Katy knew that,' one insider revealed.
'They saved her a room just in case, but they always knew it would be nearly impossible for her to make it as she's still finishing the album and it's out in a few weeks. Rih was in the studio all weekend.'
Poor Rihnanna has had a jam-packed schedule over the last few weeks. Jetting between LA, New York and the UK, she's been promoting album Loud, single Only Girl (In The World) and book R.
Rhi has also fitted in a cover shoot with MC, a video shoot for her next single, an NYC book signing and a performance on the X Factor. And she'll be switching on the Westfield Christmas lights on Thursday. Phew!
Time for a rest, Rhi?
SEE RUSSELL AND KATY'S WEDDING PICS HERE!
RIHANNA'S GORGEOUS MC COVER SHOOT
RUSSELL AND KATY: RELATIONSHIP IN PICS
Celebrity news, beauty, fashion advice, and fascinating features, delivered straight to your inbox!