Ruby Tandoh's Real Thoughts On The Great British Bake Off And Paul Hollywood
The model-turned-baker reveals what she really thinks about THOSE Paul Hollywood flirting accusations and her Great British Bake Off experience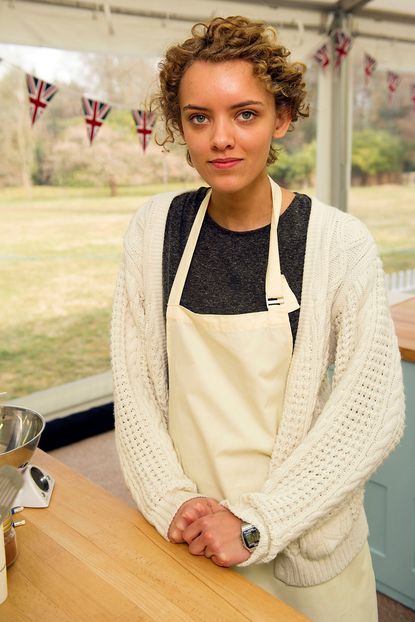 (Image credit: BBC Pictures)
The model-turned-baker reveals what she really thinks about THOSE Paul Hollywood flirting accusations and her Great British Bake Off experience
Ruby Tandoh was the bookies favourite to win this year's Great British Bake Off crown. But in last night's final, it was 31-year old clothes designer Frances Quinn that claimed the coveted-title, leaving former model Ruby and psychologist Kimberley Wilson empty handed.
Ruby has been at the centre of much criticism over the series, with many accusing the 21-year old of flirting her way into the final with judge Paul Hollywood.
Hitting back at her critics in The Guardian, Ruby said: 'I'd rather eat my own foot than attempt to seduce my way to victory, and even if I had any intention playing that card, it's insulting to both the judges to suggest that they'd ever let their professional integrity be undermined in that way.' Well, you can't put it plainer than that.
She added: 'I am tired of defending myself against the boring, inevitable accusations of flirting with Paul Hollywood, of emotionally manipulating the judges and of somehow surfing into the final on a tidal wave of tears.'
Last week Ruby also became embroiled in a Twitter row with world-renowned chef Raymond Blanc, after he Tweeted: 'the great British bake off. Not much skills, female tears, And a winner so thin who makes me doubt of her love for great cooking, baking [sic]'
Not one to keep her feelings to herself, Ruby responded: 'I don't care if you're a patisserie king - don't be an idiot.'
Which sounds fair enough to us. In fact, we reckon that her obvious baking skills and straight-talking personality will get Ruby far, with or without the Great British Bake Off trophy.
Meanwhile, winner Frances Quinn, who credits her Midsummer Night's Dream-inspired wedding cake as bagging her the prize, told how she has been 'trying to keep a poker face' at work since the summer when she found out she that she won the series.
'I remember watching the Wimbledon final the following week and getting so emotional... and thinking at least Andy Murray doesn't have to hide his trophy under his bed for the next three months.' Frances told the BBC.
We think all the Great British Bake Off contestants deserve a round of applause...
The Great British Bake Off 2013: Meet The Contestants
Got a tablet? You can now download Marie Claire magazine straight to your iPad, Kindle (just search the store for 'marie claire magazine'), Nook or Google Nexus.
Celebrity news, beauty, fashion advice, and fascinating features, delivered straight to your inbox!