Rihanna apologises to journalists for lack of access and partying on 777 tour
Rihanna said she was too tired and worried for her health to party with her guests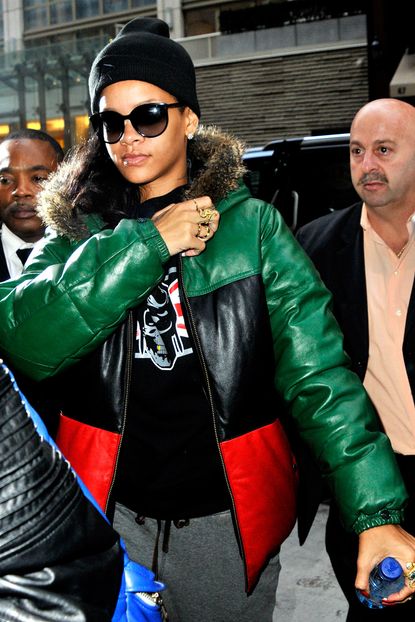 (Image credit: Rex Features)
Rihanna said she was too tired and worried for her health to party with her guests
Rihanna has apologised to journalists and fans for the lack of crazy partying on her 777 tour.
The star invited 150 journalists and fans to join her on a private 777 Boeing jet as she performed seven shows in seven countries in seven days.
It all started riotously on day one as the packed plane flew down to Mexico City with Rihanna pouring her guests champagne to get the party started.
But as the 777 tour went on, heading to Los Angeles, Toronto, Stockholm, Paris, Berlin, London, before ending in New York, the journalists felt that they hadn't seen Rihanna at all since the first day, making it a wasted trip.
RIHANNA'S WHIRLWIND VISIT TO LONDON
There were complaints of a lack of food, sleep and fun as they travelled the globe crammed into the economy class, with one Australian reporter getting so fed up with it all that he streaked naked through the cabin shouting: 'Just one quote.'
But as the tour drew to an end yesterday, Rihanna went to apologise to the journalists and fans, explaining that she was simply too exhausted to party with them.
She said: 'I barely slept. My sleeping was all done on this plane. I had to preserve my health. Normally, I'd be back here popping bottles with y'all...
'I had to preserve my voice. I was worried about my body more than partying on the plane, so I had to just sleep whenever I could.'
RIHANNA AT VICTORIA'S SECRET FASHION SHOW
She added: 'I want to see the naked Australian!
'I know you guys got barely any dirt,' she said. 'But this was excellent and I would definitely do it again.'
Rihanna also kept a video diary of her 777 tour and told fans that on the first day of the trip she woke up with a cough, hence why she took it easy for the rest of the week.
She said: 'I woke up coughing on the plane and I took some cough syrup, some cold and sinus tablets, lozenges... I'm drinking lots of water and [multivitamin supplement] Berocca.
'This entire trip, in order to make it to the end, you have to literally nurse yourself every step of the way the entire time.
'Because it's so much work - so much on your body and so much on your immune system it weakens you. And you're open to so many other viruses that are just there.'
Last night Rihanna looked stunning - with hardly a trace of tiredness - at the launch of her new album, Unapologetic, in New York.
RIHANNA KICKS OFF 777 TOUR WITH CHAMPAGNE FOR ENTIRE PLANE
Celebrity news, beauty, fashion advice, and fascinating features, delivered straight to your inbox!