Rihanna kicks off 777 tour by buying champagne for entire plane before performing in bralet
Rihanna's 777 tour started with a bang as the star hit Mexico City for the first performance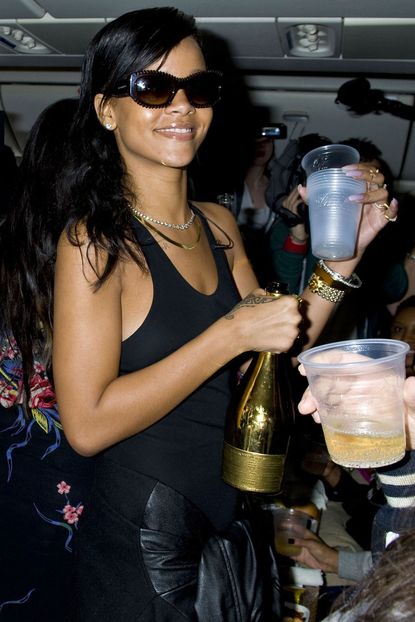 (Image credit: Rex)
Rihanna's 777 tour started with a bang as the star hit Mexico City for the first performance
Rihanna did nothing to dispel her reputation as a party girl last night as she embarked on her 777 tour. Before touching down in Mexico she treated the entire plane to £300 bottles of champagne and even played pilot as she sat in the cockpit.
NE-YO: RIHANNA HAS COME OUT ON TOP DESPITE TOUGH TIMES
Rihanna left LA on her private jet complete with her large entourage and they appeared to be more than ready for the warm up party. Rihanna got straight into the mix of things heading to the flight deck before she got in to the part with her own peaked pilot's hat.
When she'd tired of that job, she switched to being a flight attendant as she took to the intercom to announce: 'There is an emergency. Code 777. Please buckle up your seatbelts. You guys ready?
'You guys ready? 77 motherf***ing 7! Ready for Mexico? Ready for some tequila? Let's get drunk!'
RIHANNA GOES TOPLESS ON KATE MOSS PHOTO SHOOT
And clearly that's what they did as generous Rihanna splashed out on bottles of gold Armand de Brignac 'Ace of Spades' Champagne. Of course being mid-air they were forced to drink from plastic cups although judging by the superstar's smile, she didn't mind at all.
Once they'd touched down in Mexico, Rihanna took to the stage at the Plaza Condesa in Mexico City clad in a black bralet and shorts, covering up somewhat in a red-trimmed jacket. She accessorised with white-framed circular shades and pillar box red lipstick.
Her taut tummy was proudly on show as she rocked a variety of moves she's known for including grabbing her crotch. Last night marked the first date of the 777 tour that covers seven countries in seven days with seven shows.
What do you think of Rihanna's partying, should she calm down or would you love to party with her? Let us know below.
Watch Rihanna at the MTV VMAs:
RIHANNA STUNS AT VICTORIA'S SECRET FASHION SHOW RIHANNA'S HAIR HISTORY
Celebrity news, beauty, fashion advice, and fascinating features, delivered straight to your inbox!