This is the one meal Queen Elizabeth has banned from the palace
She's not about that #carblife.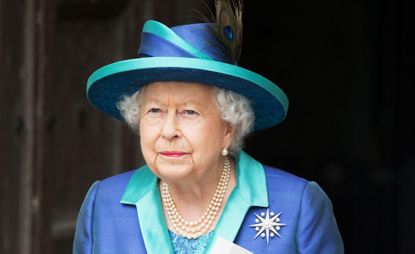 (Image credit: DAVID HARTLEY/REX/Shutterstock)
She's not about that #carblife.
If you can't live without a garlicky plate of seafood pasta, you're going to have to give dinner with the Queen a miss. The Royal Family have a lot of protocol that dictates everything from what they wear to how they sit, and a chef to the royals has explained that the Queen in particular was very specific about the food that lands on her dining table too.
Royal Chef Darren McGrady revealed in a new interview with Recipes Plus that Queen Liz cuts back on the carbs. The royal stays well away from pasta and there's an all out ban on rice and potatoes in the palace kitchens. Apparently, it's because it's all too starchy and while we get it - we don't know how we'd get by without a cheesy pasta on a tough night.
The royal family are also encouraged to keep their distance from shellfish to avoid any upset tummies, as a bad spell could keep them out of action for any important events. The same follows for rare meats and tap water from foreign countries, however when Liz does get a steak in front of her she goes with quite a controversial choice.
Darren said, 'We also couldn't serve meat that was rare, as [Queen Elizabeth] liked her meat more well done.'
Darren also revealed what the Queen snacks on when she's feeling peckish. She's a salad and banana girl, though it turns out that she's got an entire system when it comes to tackling her favourite fruit.
Darren said, 'With a banana, she'll cut off the bottoms and cut the banana lengthwise, and then cut the banana into tiny slices to eat with a fork.'
Darren McGrady isn't the first royal chef to spill the beans on the monarchy's meal plans, as former palace chef John Higgins previously revealed what Queen Elizabeth's favourite foods are. She's a woman after our own heart as she's got a massive sweet tooth, since she loves all things chocolate (especially biscuits and cake) as well as fresh fruits including mangoes, strawberries and peaches.
John also revealed that he hadn't been allowed to cook with garlic while working at the palace kitchens. It's not because the royal family are secretly vampires (though you're definitely thinking it now), it's actually because they have to do a lot of meeting and greeting and a waft of garlicky breath doesn't always make the best impression on a visiting world leader.
Fingers crossed that Meghan sneaks out with Prince Harry for a cheesy, starchy Domino's every now and again, complete with garlic dunking sauce.
A girl's gotta live.
Celebrity news, beauty, fashion advice, and fascinating features, delivered straight to your inbox!
Megan is a freelance journalist who covers entertainment and all things lifestyle, with a particular passion for fashion, beauty, travel and Keanu Reeves stories. She has previously worked on staff for titles including Marie Claire UK, CNN Style and The Evening Standard and has written for titles such as Bustle UK, Wallpaper*, Forbes and Hong Kong Tatler. She splits her time between London and her hometown Hong Kong, where she currently lives with the love of her life - an elderly dog named Poppy - and her husband.