In another universe, Peter Dinklage played Anastasia Steele in 50 Shades
'I nailed it. I really did.'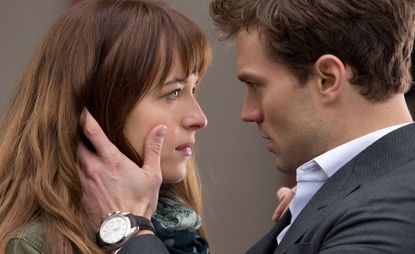 'I nailed it. I really did.'
Love or hate the series, Dakota Johnson and Jamie Dornan have become one of the world's most recognisable faces thanks to the success of 50 Shades of Grey. The steamy and sometimes eye-rolling escapades of their characters Anastasia Steele and Christian Grey have become pretty infamous, though there's one adaptation I need to see immediately. It turns out that off-camera, Jamie Dornan played out the series' intimate scenes while separated from his co-star with an unexpected celeb - Peter Dinklage. Yes, that Game of Thrones Peter Dinklage.
While promoting his and Jamie Dornan's new film My Dinner with Hervé, Peter Dinklage revealed that Jamie actually had to juggle filming with 50 Shades reshoots. As any good pal would, Peter decided to step in and help Jamie prep in a pretty unusual way.
Peter said on The Late Show With Stephen Colbert, 'I read some of the [50 Shades Freed] screenplay through in our dressing room.'
'I went in, [Jamie] had to do some reshoots for 50 Shades and I - uh - would help him out learning lines,' he revealed.
Now, you can probably guess where this is going. And to be honest, the rest of the audience did too as people erupted into fits of giggles.
He continued, 'I would read the Dakota Johnson parts...I was just helping a friend learn lines.'
We need to see a spin-off film with Tyrion Lannister and Christian Grey whispering sweet nothings to one another ASAP. We don't know who we need to talk to in order to make this happen, but if the gods and goddesses of cinema are listening - please, please make this a reality.
As for whether Peter Dinklage gave Dakota a run for his money? Well, he had a lot to say for himself.
He said, 'I nailed it. I really did.'
We don't doubt it. We mean, look at how enamoured Jamie Dornan is with him.
Peter Dinklage and Jamie Dornan will be starring in a dedidedly less sexy film coming out on HBO called My Dinner with Hervé, which centres around the last interview the actor Hervé Villechaize ever gave.
It is set to premiere on Sky Atlantic on October 22 at 9pm.
Celebrity news, beauty, fashion advice, and fascinating features, delivered straight to your inbox!
Megan is a freelance journalist who covers entertainment and all things lifestyle, with a particular passion for fashion, beauty, travel and Keanu Reeves stories. She has previously worked on staff for titles including Marie Claire UK, CNN Style and The Evening Standard and has written for titles such as Bustle UK, Wallpaper*, Forbes and Hong Kong Tatler. She splits her time between London and her hometown Hong Kong, where she currently lives with the love of her life - an elderly dog named Poppy - and her husband.