Marie Claire is supported by its audience. When you purchase through links on our site, we may earn commission on some of the items you choose to buy.
Radio stations have been refusing to play Katie's latest offering, which landed a sorry number 60 in yesterday's charts
Katie Price's latest single Free to Love Again flopped in the charts yesterday, failing to reach the top 40, and coming in a sorry number 60 on the top music list.
Despite cutting short her honeymoon to promote her single on GMTV, the record sold a measly 3,000 copies, with radio stations deeming the track 'not credible' enough to play.
And it seems the sad sales figures have put Katie – who's already admitted she can't sing or dance – off a trying to launch a full-time music career.
'There are no plans for her to do another single at the moment,' an official told the Mirror, yesterday, amid rumours music was a last ditch attempt by Katie to restart her failing career.
LISTEN to Miss Price's single here…
And if her lack of single success wasn't bad enough, Miss Price landed herself in hot water for other reasons yesterday, turning up late for a charity polo match, and forcing her team to scrabble around for a last minute replacement.
Despite trying her best to gain access to Prince Harry, who was also at the match, Jordan was kept firmly out of the VIP area, reportedly leaving polo buffs wondering about her talent.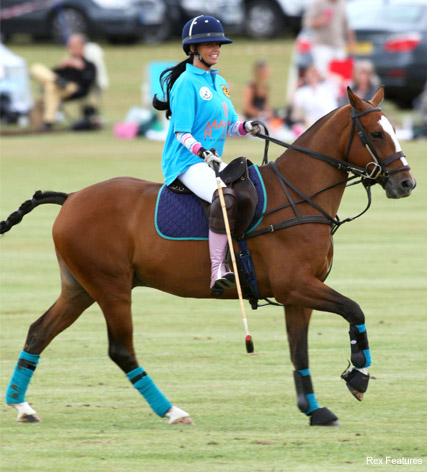 'She looked like she'd never been on a horse before, never mind played polo,' said one insider.
'She did manage to score one goal but that was from a free hit she was given about ten yards away from the goal. Apart from that she looked really out of her depth, hopeless even. It really put paid to her talk of going to the Olympics!'
What are your thoughts on Katie Price's single? Should this be the beginning and end of Miss Price's music career? Let us know in the comments box below.