Newsweek's Diana at 50 cover: Bad taste or brilliant?
The magazine's controversial story imagines Princess Diana's life 'if she were here now'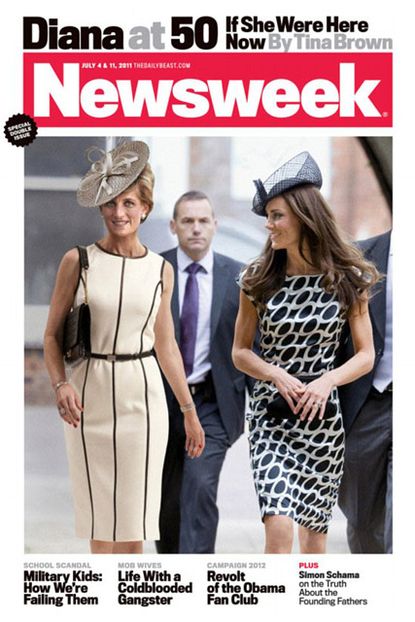 The magazine's controversial story imagines Princess Diana's life 'if she were here now'
With what would have been Princess Diana's 50th birthday drawing near, Newsweek have taken the controversial step of imagining what her life would have been like, 'if she were here now.'
On its July cover, the issue features a startling computer-generated image of an imagined 50-year-old Diana, walking next to newlywed Duchess of Cambridge.
But is the idea brilliant or just plain bad taste?
In the article – which hits newsstands on July 1 - editor Tina Brown describes how she thinks Diana's life would have panned out, had she not died the fatal crash in 1997.
Accompanied by the digitally-aged image of the Princess, the piece suggests William and Harry's mother would now be living in New York – having married several more times – have both Facebook and Twitter pages, and even have regular botox injections to keep her looking young.
'Diana would have been 50 this month,' the article begins. 'What would she have been like? Still great-looking: that's a given.'
It goes on: 'Fashion-wise, Diana would have gone the J Crew and Galliano route a la Michelle Obama, always knowing how to mix the casual with the glam.
'There is no doubt she would have kept her chin taut with strategic Botox shots and her bare arms buff from the gym.'
Brown also describes how Princess Diana would have been friends with a host of celebrities – including David and Victoria Beckham – and even Camilla Parker Bowles, having finally made peace with Prince Charles.
It also shows a mock-up picture of her Facebook page, complete with messages from Sarah Ferguson.
But is this just one step too far?
Many have already branded it 'horribly offensive, but what are your thoughts on the controversial newsweek cover? Let us know in the comments box below.
Celebrity news, beauty, fashion advice, and fascinating features, delivered straight to your inbox!