Mollie's Feel-Good Feed: Mind mapping, a classic Icon and a game of chess
Could chess be the Lockdown 2.0 trend?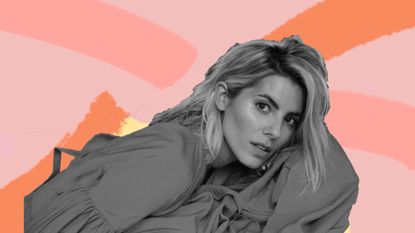 Could chess be the Lockdown 2.0 trend?
Welcome to Mollie's Feel-Good Feed, a place where each week Mollie King shares her round-up of the things bringing her joy in these strange and uncertain times. Check back each week for uplifting music, self care tips and, hopefully, a smile being put on your face.
This week has been slightly quieter for me, so I feel very lucky that I've been able to relax and indulge in a new TV series in the evenings which I adore, and have even learnt a new skill! I hope you've found time to get some fresh air and enjoy some well-deserved you-time.
Singles
Seeing as holidays are pretty much off the table right now, I'm going to recommend a song that, when you close your eyes transports you to the side of a pool, cocktail in hand. So if you're feeling like you need a pick-me-up, pop Girl by KC Lights on Spotify. The DJ from Glasgow brings that euphoric feeling, which will hopefully have you feeling a little lighter and brighter in no time. Because, let's face it, apart from looking at pictures on the internet, a song is probably the best way to bring back beautiful memories of somewhere special.
Pale Waves might be a new name to you, but if any part of you likes indie-pop I suggest you pay attention to this band. With an avid fan base, they are already onto their second album, Who Am I, due next February and their latest single Change is something to celebrate from that. Having already toured with The 1975 and finding fans in them, Pale Waves are a reason to get excited. This latest release of theirs gives early Taylor Swift vibes reminiscent of her album RED which let's be honest is a nothing but a good thing. I can't wait to hear more from them.
Albums
As in the title of David Letterman's Netflix hit My Next Guest Needs No Introduction, this next artist is a household name and icon. Kylie. Yep, we can't get her out of our heads, she's always Spinning Around, and this is Especially For You. Sorry, couldn't resist. She's back with her latest album, Disco, which went straight in at Number 1. Following on from her country-inspired album, Golden, two years ago, Disco has more of an electric feel, with classic Kylie written all over it. Get your hot pants on, this album was made for dancing.
TV
Never in my right mind did I think I'd be asking my boyfriend Stuart to get his dusty old chess board out of the loft, but this week that did happen. The reason? Netflix's The Queen's Gambit. Based on the Walter Tevis novel, the series is set across the 50s and 60s and tells the story of an orphan who learns to play chess at a young age. She strives to become the world's greatest chess player, whilst battling addiction problems. With Anya Taylor-Joy and Thomas Brodie-Sangster in the starring roles, they're not only King and Queen on the chess board, but are also set to reign on the screen too. Put your snacks within easy reach - this one is impossible to switch off.
Self Care
Rather than products for self-care right now, with the pandemic being at the forefront of most of our minds, I think mental and emotional care is more vital than ever. I've spoken before about writing a gratitude list to help with a positive outlook in the morning, but what I've been learning about recently are the benefits of Mind Mapping. As someone who's completely new to this technique, I was starting from scratch. You basically jot down your thoughts onto a piece of paper, rather than letting them fester in your mind. It enables you to think more clearly and get a better overview on the things that might be niggling at you. I can't recommend it enough, if you're like me and feel like you're trying to juggle a million balls at a time. Alternatively, just continue juggling, which I can assure you is a lot more difficult than they make it look in the circus. So give it a shot and let me know what you think.
Celebrity news, beauty, fashion advice, and fascinating features, delivered straight to your inbox!
Mollie King rose to fame as one-fifth of the multi-platinum selling girl band, The Saturdays. The last few years have seen her become a Radio 1 DJ, present across flagship TV shows and a campaign in Parliament.
During her time in The Saturdays, the group sold over five million records worldwide, achieving 13 Top 10 singles and five Top 10 albums. The band also embarked on four nationwide tours and had three primetime TV series, including Chasing the Saturdays for E! which aired in over 40 countries.
In 2018, Mollie turned her hand to presenting and after guest presenting for several weeks on Matt Edmondson's Radio 1 show, she was offered a permanent role at the station. The duo began hosting the Matt & Mollie Weekend Breakfast show and 2021 moved their new afternoon slot. Mollie also presents her own Friday morning show Best New Pop, sharing music from her most loved genre. After only six months into her role at Radio 1, Mollie won the silver award for 'Best New Presenter' at the 2018 ARIA Radio Academy Awards.
In addition to Radio, Mollie has also guest presented This Morning several times, including a month-long stint in the summer of 2018. She's covered the entertainment slot on Lorraine, and guest presented on Blue Peter. In 2019, Mollie hosted The Greatest Dancer podcast for the BBC. She also presented the BBC Radio 1 Teen Awards, alongside Greg James and Maya Jama, which aired on BBC2. Mollie also took part in the 15th series of Strictly Come Dancing in 2017, making it all the way to the semi-finals.
Away from her TV and Radio work Mollie writes a weekly column for Marie Claire magazine, 'Mollie's Feel Good Feed' and has worked with numerous brands including Estée Lauder, L'Oreal, Amazon, GHD and Aspinal of London.
Mollie is a proud ambassador for the Dyslexia Association, a learning disorder she was diagnosed with as a child. Mollie is very passionate about campaigning for early diagnostic tests in schools, as well as funding to support children through education with Dyslexia and spoke about this in Parliament in 2019.
Mollie is also a Born Free anti-captivity ambassador, has worked closely with the charity Mothers2Mothers and traveled to Ghana in 2014 with REDD charity to help raise awareness and funds for HIV.