Lea Michele and Chris Colfer to leave Glee
Sob! Ryan Murphy has confirmed the stars will not be returning for season four of the show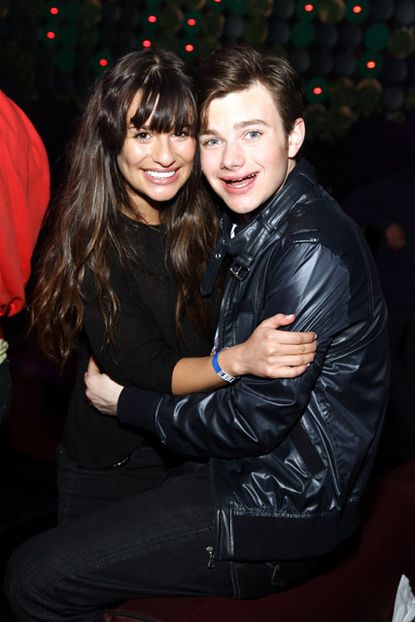 (Image credit: Rex Features)
Sob! Ryan Murphy has confirmed the stars will not be returning for season four of the show
Sad news, Gleeks. After months of rumours, Glee creator Ryan Murphy has confirmed Lea Michele and Chris Colfer are definitely leaving the hit singing show at the end of season three.
It's thought the pair will don their caps and gowns, and graduate next May.
GLEE LIVE: ALL THE GLITTERING PICS!
Murphy also confirmed other members of the cast – including Cory Monteith– will be stepping down from the show, in order to keep it as close to real life as possible.
But the director said Lea and Chris, in particular, have been involved in planning their exit every step of the way.
'We made that decision and I involved Chris and Lea and they thought that was a good idea,' he told Entertainment Weekly.
'They both trust the writing and trust me and felt that it would be great to have an open and closed experience for them to go out while they were on top.'
Admitting that he hadn't yet discussed the move with Mr Monteith, the director said the news wouldn't come as a surprise, adding: 'He knows he was a sophomore when the show started.'
He also told how how season three will begin to focus more on the characters' personal lives as they head towards graduation, adding he wants to avoid criticism for 'not being realistic'.
'You can keep them on the show for six years and people will criticize you for not being realistic,' he explained, 'or you can be really true to life and say when they started the show they were very clearly sophomores and they should graduate at the end of their senior year.'
As news of the interview spread, Lea took to Twitter to post a special message to fans.
'To Gleeks everywhere, you're in my heart now and forever. Love u all!!! This is just the beginning!!' she wrote.
'We always knew we'd graduate in real time. It's all part of the plan and it's all good! It's going to make Season 3 amazing!!!'
Will you be sad to see Lea and Chris leave the show? Let us know in the comments box below.
GLEE LIVE: ALL THE GLITTERING PICS!
Celebrity news, beauty, fashion advice, and fascinating features, delivered straight to your inbox!