Kim Kardashian: My baby will not appear on my reality show
Kim Kardashian has revealed that her and Kanye West's baby will be kept out of the public eye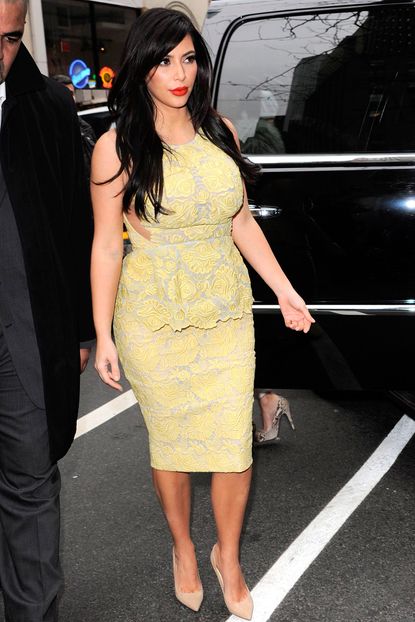 (Image credit: Rex Features)
Kim Kardashian has revealed that her and Kanye West's baby will be kept out of the public eye
Kim Kardashian has decided to introduce the concept of privacy into her life for the first time.
We're shocked too.
Kim, 32, who shares every part of her personal life through her reality TV shows and Twitter account, has said that her and Kanye West's baby will not appear on Keeping Up With The Kardashians.
As she sat next to sister Kourtney Kardashian, who is happy for her children, Mason and Penelope, to appear in the reality series (awkward), Kim told Jimmy Kimmel that she has made the very 'tough decision' to shield her unborn baby from the public eye.
She said: 'The baby is not going to be on our show. When he or she decides that's what they want to do, then that will be a decision.'
Realising that she was, in a way, publicly criticising Kourtney, she then backpedalled by saying: 'I love seeing Mason and Penelope on TV. Mason is the highlight of our show, I think.'
'It's a tough decision,' Kim said. 'From the start, as of now, that's just a personal choice that Kanye and I have made... We're going to try to keep it as private as possible.'
The reality star also told the studio audience that hand-me-downs were not an option and that Kanye was planning to have the baby's wardrobe custom-made.
Seems sensible.
What do you think of Kim Kardashian's decision to keep her child out of the limelight? Let us know your thoughts below.
Celebrity news, beauty, fashion advice, and fascinating features, delivered straight to your inbox!