LATEST! Katie Price and Peter Andre's furious war of words
The pair have accused each other of being bad parents in the latest dramatic turn of events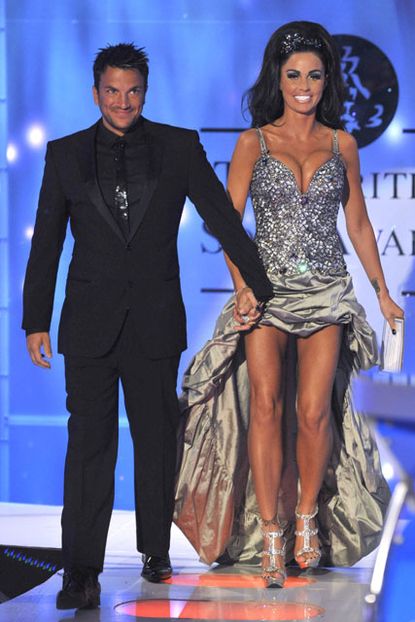 (Image credit: Rex Features)
The pair have accused each other of being bad parents in the latest dramatic turn of events
Just when we thought we had heard it all, the Katie Price circus has swung into action again. The newly-single star has become involved in a bitter war of words with ex-hubby Peter Andre after daughter Princess suffered a minor burn on holiday, furiously revealing: 'I will take whatever insults my ex-husband wishes to heap on me but I will not accept him portraying me as a bad mother.'
SEE KATIE AND PETER IN HAPPIER TIMES HERE!
The battle began in Peter's corner, after the Australian singer blasted Katie for keeping him in the dark when Princess sustained the small injury during a skiing holiday.
Pete revealed he had visited a lawyer following the incident, after trying and failing to contact Katie himself.
'Princess arrived at Pete's house with a burn on her body he hadn't been made aware of. He has been trying to find out how she sustained the injury,' his spokesman told the Mirror.
'When he was unable to get a response from Princess's mother he decided to deal with it legally. But needless to say, he's very concerned.'
But Katie denied the burn was anything serious.
'Princess has in fact got a minor burn under her armpit that she received in a fluke accident when she was in Klosters,' she said of the incident.
'At that time she was with my mother and my sister and had (unbeknown to my sister) followed my sister to retrieve pyjama's (sic) left to warm.
'That injury was seen to immediately and while it is of course upsetting that it happened at all, it was an accident of the type that happen to children all the time.'
And the furious star was quick to hit back at her ex-husband in the swift statement, branding Peter 'shameful' and accusing him of using the children to gain publicity. 'At a time when I am trying to persuade my ex-husband to remove the children from the public eye to have this incident appear in the press and garner a little publicity is quite shameful,' Katie ranted in her own statement.
'I am just so sad, and so sorry, to have to respond publically (sic) to the article and my ex-husband's statement. I will take whatever insults my ex-husband wishes to heap on me but I will not accept him portraying me as a bad mother.'
Katie also used the opportunity to deny reports she had used hair straighteners on the three-year-old's blonde curls.
'In fact Princess had her hair straightened by me at her request after I had bathed her and washed her hair. Straighteners were not used,' she said.
What are your thoughts on Katie and Peter's latest war of words? Are either of them bad parents? Let us know your thoughts in the comments box below.
KATIE PRICE AND ALEX REID: RELATIONSHIP IN PICS
Celebrity news, beauty, fashion advice, and fascinating features, delivered straight to your inbox!