Jennifer Aniston on grey hair and turning 40
Find out why Jen is freaking out about turning 40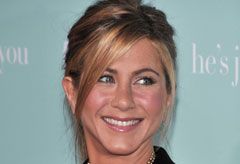 Find out why Jen is freaking out about turning 40
Jennifer Aniston turns 40 next week and while on the whole she's looking forward to the milestone, there's just one teeny tiny thing that's bothering her about reaching middle age: grey hair.
'I have to say really, I feel better than I ever felt in my life,' she said on The Ellen DeGeneres Show. 'I did have a moment, though, over the weekend my first like huh. … I don't want to [turn 40].'
'I found a really long grey hair and it kind of flipped me out,' she told the talk show host. 'It's not my first but it's the fact that it was so long. I was like, "Oh that's been there. How many others are there, and what does that mean?" It actually brought me to tears slightly.'
Ellen then went on to quiz the actress about who would be attending her birthday bash this weekend.
'Courteney Cox … she's going to be invited to the party,' Ellen asked, holding up a photo of Jen's gal pal.
'She's invited to my party on Saturday,' Jen confirmed.
'He'll go,' Ellen continued while holding up a photo David Arquette. 'And he'll probably go right?' she added showing a picture of Jen's on/off beau, John Mayer, wearing a one-piece green swim suit.
Avoiding the question, Jen joked, 'I've got to tell you honestly I almost don't want to touch it.' She then added, 'The man's got balls. What can I say? I think he's funny.'
Meanwhile, the He's Just Not That Into You star revealed that she has kept voice messages from all her old boyfriends, including Brad Pitt.
I still have the cassette tapes of messages from my first boyfriend, my second boyfriend, my husband… it's like saving love letters,' she told US Marie Claire. CLICK HERE FOR PHOTOS OF THE HE'S JUST NOT THAT INTO YOU PREMIERE CLICK HERE FOR JENNIFER ANISTON PHOTOS
CLICK HERE FOR MORE CELEBRITY NEWS
Celebrity news, beauty, fashion advice, and fascinating features, delivered straight to your inbox!