Craig Colton sent home in X Factor deadlock
A distraught Craig Colton was voted off the X Factor when the judges were split 50/50 after his sing-off with Amelia Lily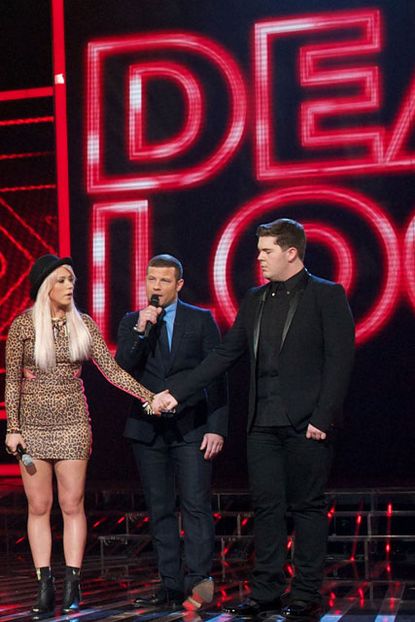 (Image credit: Rex/Talkback Thames)
A distraught Craig Colton was voted off the X Factor when the judges were split 50/50 after his sing-off with Amelia Lily
A distraught Craig Colton was voted off the X Factor last night, after judges were split 50/50 after his sing-off with Amelia Lily.
X FACTOR FASHION 2011 The tension mounted when it was revealed Craig Colton and Amelia Lily would be in the sing-off.
Craig had the audience almost in tears when he sung a heartfelt version of The Shirelles' Will You Still Love Me Tomorrow as his safety song, while Amelia performed a gutsy take on You And I by Lady Gaga.
We were torn between the two performances, as were the judges, who failed to reach a unanimous vote.
With Gary and Tulisa both saving Craig, and Kelly and Louis supporting Amelia, the decision would be made by going to deadlock to decide their fate in the competition.
As he had expected, Craig Colton was sent home after the first deadlock of the series revealed he had received the lowest public vote.
The heartbroken 22-year-old admitted at the start of the show that he wasn't feeling confident after receiving some harsh criticism from the judges on Saturday night's show.
The Liverpudlian fought back tears to tell host Dermot, 'I've had the time of my life the last few months and Gary did it all with me - I've done myself proud.'
Craig's mentor Gary Barlow went on to tell him to stay in touch, saying, 'everybody in here heard the might of your voice tonight,' and to 'just ask' if he ever needed anything.
On and off cameras Gary Barlow was seen hugging the tearful Craig.
But earlier, after the sing-off, Gary hadn't been quite so nice, telling come-back girl Amelia she 'shouted' her song.
SEE ALL THE OUTFITS FROM THE X FACTOR HERE
'Amelia I feel like you shouted your way through that, while Craig was understated and gorgeous,' Gary said as he gave his decision.
After the deadlock decision Amelia, who only returned last week in the wake of Frankie Cocozza's departure, looked equally devastated to have sent home Craig and was seen crying to Misha B and Janet Devlin.
As soon as the cameras turned off Kelly Rowland was seen running from the judges table to comfort Amelia and her girls.
In a dramatic turn of events, Misha B was the first to be sent through, with many speculating that her emotional story on Saturday's show won her sympathy votes after several weeks in the bottom two.
Saturday's favourites Little Mix went through second, followed by Marcus and then Janet, although the flame-haired irish singer received boo's from the audience when it meant her vote had left Amelia and Craig to face the sing-off.
Earlier in the show, the finalists performed a group rendition of When You're Gone with Bryan Adams, and when Dermot asked who the Canadian star's favourite was he nominated Amelia as his choice to win the competition.
We were also treated with a performance by last year's runner-up, the soulful Rebecca Ferguson, who sung her debut single Nothing's Real But Love.
And of course it was Rihanna who stole the show when she appeared on the X Factor stage to belt out her number one hit We Found Love.
Rihanna toned-down her performance compared with last year's raunchy on-stage food-fight, but the audience were still going wild, especially when she danced out to the crowd.
Next week the five remaining contestants will have to perform two songs in the quarter finals, and will be joined by Xtra-factor host Olly Murs and Jessie J, each performing on Sunday's results show.
SEE ALL THE FASHION FROM THIS YEAR'S X FACTOR
Do you think Craig should have been sent home? And is it fair Amelia is still in the competition? Tell us what you think in the comments box below...
Celebrity news, beauty, fashion advice, and fascinating features, delivered straight to your inbox!