Marie Claire is supported by its audience. When you purchase through links on our site, we may earn commission on some of the items you choose to buy.
The sickly songstress has been working hard on her recovery, with mum Joan insisting on early nights and home-cooked food to nurse her back to health
Reports suggest Cheryl Cole has made massive progress in her battle against malaria, and could return to work on the X Factor as early as this week.
SEE ALL THE LATEST X FACTOR PICS HERE!
The sickly star, who has been holed up at her Hurtmore House home, is said to have been working hard on her recovery, and friends say the 'fiesty old Cheryl is returning'.
'Cheryl is a fighter and this has been the fight of her life,' one insider told the Mirror.
'She's put all her energy into getting better and it looks like it's paid off. The fact she's cracking jokes again is a wonderful sign that the feisty old Cheryl is returning.
'Simon has told her he can't wait to have her back on board.'
And friends reveal the secret of her speedy recovery has been 'early nights and home-cooked meals'.
'Her mum Joan has been waiting on her hand and foot which means she's built her strength up with early nights, home-cooked meals and lots or rest and relaxation,' one revealed. 
But it's thought Cheryl will take her return one step at a time, and may even keep the on-call nurse she's been employing, to monitor her health as she returns to work.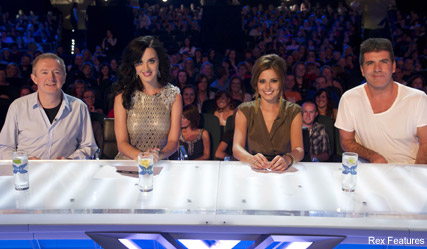 'She feels better but it's one step at a time and she thinks she would feel more confident if she had her nurse, just in case anything goes wrong,' the insider added.
Meanwhile, it seems Cheryl's stand-in, Nicole Scherzinger has been a big hit with fellow judges, persuading them to shake up the format for this year's show.
'At Nicole's suggestion, and agreed by Simon and Louis, the boys' and girls' category age limit has been increased to anyone under 28, which the judges believe will strengthen the competition and talent,' a show spokesman said.
SEE ALL THE LATEST X FACTOR PICS HERE!