Charles Saatchi Accepts Police Caution After Investigation Into 'Row'
The former advertising mogul has been cautioned over a 'row' with wife Nigella Lawson, which he describes as a 'playful tiff'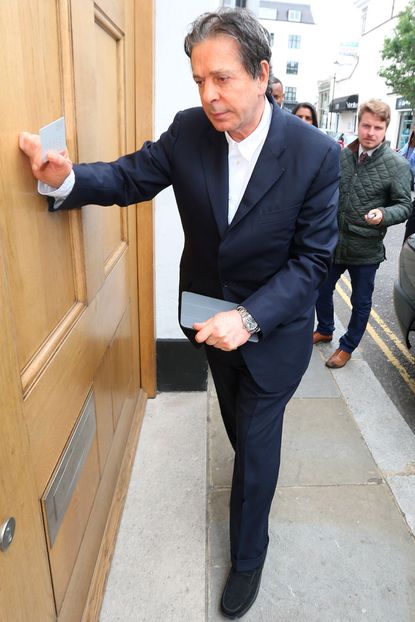 (Image credit: Rex)
The former advertising mogul has been cautioned over a 'row' with wife Nigella Lawson, which he describes as a 'playful tiff'
Charles Saatchi has been cautioned by police over a public row with his wife Nigella Lawson.
The news comes just hours after the former advertising mogul and art collector issued a statement via The Evening Standard, in which he dismissed the spat as a 'lover's tiff'.
A Met police spokesperson said: 'Officers from the Community Safety Unit at Westminster were aware of the Sunday People article which was published on June 16 and carried out an investigation.
'This afternoon a 70-year-old man voluntarily attended a Central London police station and accepted a caution for assault.'
Police also confirmed that they had not received a complaint from Nigella or anyone else, so were merely taking action after the publication of the photos.
In The Sunday People snaps, 70-year-old Charles could be seen holding his hands around Nigella Lawson's throat. The 53-year-old left the scene crying and then left her house the following day carrying a suitcase.
A spokesperson for the TV chef said that the star still 'isn't at the family home'.
Charles Saatchi defended his actions yesterday, telling The Evening Standard: 'About a week ago, we were sitting outside a restaurant having an intense debate about the children, and I held Nigella's neck repeatedly while attempting to emphasise my point.
'There was no grip, it was a playful tiff.
'The pictures are horrific, but give a far more drastic and violent impression of what took place.
'Nigella's tears were because we both hate arguing, not because she had been hurt.
'We had made up by the time we were home. The paparazzi were congregated outside our house after the story broke yesterday morning, so I told Nigella to take the kids off till the dust settled.'
NIGELLA LAWSON AND CHARLES SAATCHI INVESTIGATED BY POLICE
CHARLES SAATCHI DEFENDS 'ROW' WITH NIGELLA LAWSON
Celebrity news, beauty, fashion advice, and fascinating features, delivered straight to your inbox!