Chace Crawford to star in Footloose movie remake
Crawford steps into Footloose role after Efron drops out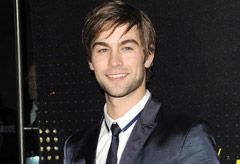 (Image credit: Rex Features)
Crawford steps into Footloose role after Efron drops out
Chace Crawford, a.k.a Gossip Girl hottie, has landed the lead role of Ren McCormack in the forthcoming musical remake of Footloose.
The 23-year-old secured the all-singing, all-dancing part after High School Musical star Zac Efron dropped out in March, deciding he needed a new challenge. 'I want to grow a bit with the types of movies I want to make', said Efron earlier this year.
It could have been a match made in heaven as Kenny Ortega – the mastermind behind High School Musical – is on board to direct the movie.
However, now it is Crawford, best known for playing Nate Archibauld on teen TV drama Gossip Girl, who will reprise the role that made Kevin Bacon a heartthrob in 1984.
Now speculation remains over who will play Ren McCormack's love interest, Ariel Moore.
Rumours are circulating that Hannah Montana star, Miley Cyrus, is the keen favourite. 'They've expressed interest in Miley for the part. She is definitely in the mix', revealed a source.
Hairspray actress, Amanda Bynes, and Heroes' star Hayden Panetierre are also said to have auditioned.
The film centres around Ren McCormack, a teen rebel who moves to a small town where music and dancing is outlawed. The bad boy in tight jeans, however, soon brings everyone together with his dare-devil moves.
The film is slated for release in July 2010 – not too long to wait then girls!
ARE YOU A TWITTERER? FOLLOW US HERE!
BECOME A MARIE CLAIRE FACEBOOK FAN HERE
Celebrity news, beauty, fashion advice, and fascinating features, delivered straight to your inbox!
Natalia is a health journalist with 14 years experience in the publishing industry. She has worked for a number of well known magazines and websites including Marie Claire, Woman&Home, Top Sante, Boots and The Telegraph. She likes to think she practices what she preaches when it comes to health and fitness. Her athletic prowess began early. A keen fencer for 13 years, she wielded an epée for Olympic Team GB during her teenage years. She likes to think she made sword-fighting cool before Game of Thrones came along! While working on her sporting performance with the team, she also participated in a lot of nutrition and psychology training, When it comes to time off, you'll most likely find her up a mountain somewhere. It seems holidays have become a time for climbing several thousand feet, rather than chilling out. She's now hiked eight of the major mountain ranges across four continents – including the Appalachians, the Smokies, the Sierra Nevadas (she spent her honeymoon hiking to the top of Half Dome), as well as hitting the summits of Snowdon, Pen-Y-Fan (Brecon Beacons), Table Mountain in South Africa, the Blue Mountains in Australia and the Atlas Mountains in Morocco. She's also passionate about all things health, particularly vaccinations, and will happily jump on her soap box at any given opportunity to talk about their benefits to anyone who will listen!