Parliament has finally passed the Brexit bill
The UK has voted for a Brexit. Here's what is likely to happen now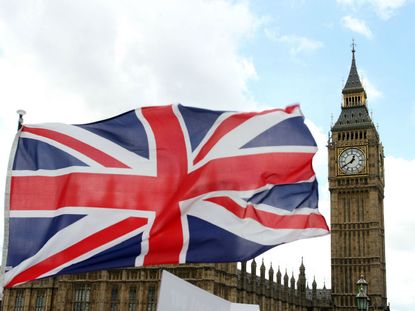 (Image credit: rex)
Here's what it means...
With 498 British MPs voting in favour of the Article 50 Bill (which states that any member of the EU can leave in accordance with its own constitutional requirements) and only 114 voting against, we have avoided a 'constitutional crisis' and Brexit is officially happening, with plans well under way. So when could a Brexit actually be happening? Well, now. The bill is expected to become law today.
There has been a lot of to-ing and fro-ing with regards to enacting Brexit, but having just passed the final two parliamentary hurdles, Theresa May will now be able to trigger Article 50, marking the start of the two-year negotiation process.
Last night MPs in the House of Commons chose to overturn the amendment to the European Union Notification of Withdrawal Bill, then approved by the House of Lords, meaning one thing: the start of negotiations on Britain's formal exit.
Prime Minister Theresa May has emphasised that she is committed to a hard Brexit and that by the end of the leave, the UK will have left the single market and will no longer have freedom of movement.
Last month, the government published the Brexit white paper where the entire process of what it means and how it will be done has been outlined.
The White Paper
This outlines the government's 12 principles below. You can read the entire report here.
1. Providing certainty and clarity – We will provide certainty wherever we can as we approach the negotiations.
2. Taking control of our own laws – We will take control of our own statute book and bring an end to the jurisdiction of the Court of Justice of the European Union in the UK.
3. Strengthening the Union – We will secure a deal that works for the entire UK – for Scotland, Wales, Northern Ireland and all parts of England. We remain fully committed to the Belfast Agreement and its successors.
4. Protecting our strong and historic ties with Ireland and maintaining the Common Travel Area – We will work to deliver a practical solution that allows for the maintenance of the Common Travel Area, whilst protecting the integrity of our immigration system and which protects our strong ties with Ireland.
5. Controlling immigration – We will have control over the number of EU nationals coming to the UK.
6. Securing rights for EU nationals in the UK, and UK nationals in the EU – We want to secure the status of EU citizens who are already living in the UK, and that of UK nationals in other Member States, as early as we can.
7. Protecting workers' rights – We will protect and enhance existing workers' rights.
8. Ensuring free trade with European markets – We will forge a new strategic partnership with the EU, including a wide reaching, bold and ambitious free trade agreement, and will seek a mutually beneficial new customs agreement with the EU.
9. Securing new trade agreements with other countries – We will forge ambitious free trade relationships across the world.
10. Ensuring the UK remains the best place for science and innovation – We will remain at the vanguard of science and innovation and will seek continued close collaboration with our European partners.
11. Cooperating in the fight against crime and terrorism – We will continue to work with the EU to preserve European security, to fight terrorism, and to uphold justice across Europe.
12. Delivering a smooth, orderly exit from the EU – We will seek a phased process of implementation, in which both the UK and the EU institutions and the remaining EU Member States prepare for the new arrangements that will exist between us.
On February 1st, we asked if British people still be able to have EU citizenship in face of Brexit?
With thousands of requests from the British public asking to keep their link with Europe, saying 'I don't want to lose completely my EU citizenship,' parliament's chief Brexit negotiator, Guy Verhofstadt is vying for a way to maintain this relationship for Britons who want it.
He has said: 'It's responding to hundreds, maybe even, at this moment already, thousands of mails that I'm receiving from UK citizens who are saying, 'I want to continue my link with Europe. I don't want to lose completely my EU citizenship', and I'm looking to the possibilities, what elements of this EU citizenship, we can keep on an individual basis. Many are in shock still, of, I think, the outcome of the referendum.'
Currently, Britons are expected to lose their rights to live and work within the EU once Brexit fully takes effect, so what this would mean is the introduction of an 'associate citizenship' that would allow those who wish to retain free movement to work and live in countries within the European Union, as well as retain consular aid when travelling, to be able to do so.
But, with some opposed to this being part of Theresa May's Brexit negotiations, insisting that Brexit must be a 'clean Brexit' (or 'hard Brexit'), it's unknown whether or not it will become a fruitful proposal.
On 24th January, we wrote...
News broke this morning that the Government has lost its Brexit vote appeal, the Supreme Court ruling meaning that Parliament has to give Article 50 the go ahead before the Brexit process can officially begin.
The case, put forward by the UK government, was pushing for the Prime Minister to have enough authority to trigger Article 50, and therefore enact Brexit alone, without MP's approval. Theresa May was hoping to begin talks with the EU soon to get the process started but she is now, however, being forced to wait until she has Parliament's full support.
Gina Miller, who led the pro-EU Brexit challenge announced 'No Prime Minister, no Government can expect to be answerable or unchallenged. Only Parliament is sovereign.'
What does the new Supreme Court ruling mean for Brexit?
This morning's verdict essentially just puts the brakes on Brexit and gives the power back to Parliament. Prime Minister Theresa May's next step will be to put a bill through the House of Commons to authorise the use of Article 50 - something the Government is said to already be preparing.
In theory Pro-EU MPs could use the Parliamentary vote to delay or even put a stop to Brexit. It is, however, highly unlikely that Brexit would be stopped at this late stage as Parliament would be going against the will of the people.
We wrote on 3rd November...
A major ruling by the high court has just determined that Article 50 - which states that any member of the EU can leave in accordance with its own constitutional requirements - cannot be implemented without a vote from parliament.
Pro-Brexit campaigners had hoped that Britain's vote to leave the EU on 23rd June could be implemented by Theresa May without a parliamentary vote. May had previously released a statement saying she hoped she could trigger Article 50 by the end of March next year.
But anti-Brexit campaigner Gina Miller has brought a case against this to the high court, who today ruled the government's plan was 'contrary to fundamental constitutional principles of the sovereignty of parliament. The court does not accept the argument put forward by the government. There is nothing in the text of the 1972 Act to support it.'
So what does this all mean? The wheels of Brexit cannot be put into motion without a vote from parliament. The government will only be able trigger Article 50 after MPs have voted in favour of it - and they might not.
Theresa May will now take her case to the Supreme Court, who will be expected to rule either way on the matter in the next three weeks.
On 24th June, we wrote
Britain's vote to leave the European Union has thrown the country into economic and political unrest. Since the Leave campaign's narrow victory last Thursday - with 52% voting for a Brexit against 48% voting to stay in the EU - Prime Minister David Cameron has announced his resignation, twelve members of the Labour shadow cabinet have resigned and the Governor of the Bank of England Mark Carney has announced a £250bn injection of funds to restore the plummeting value of the pound.
As Harry Potter author J.K Rowling put it on Friday, 'I don't think I've ever wanted magic more.'
As expected, Britain's decision to exit the EU was in the main a generational one, with a YouGov poll indicating that 75% of 18-24 year olds voted to remain, while 61% of people over the age of 65 voted to leave.
So whether you spent the weekend celebrating the news with a glass of English sparkling wine or are currently hunkering down stockpiling cans of baked beans in preparation for the apocalypse, here's a run-down of what is likely to happen next.
So, do we leave straight away?
No - it will likely take two years, possibly longer. To begin the formal extraction process, Britain must trigger Article 50 of the Treaty Of the European Union, which lets a member state notify the European Council of its withdrawal. After Article 50 has been triggered the UK will be excluded from all further EU decision-making and would not be allowed back in without a unanimous vote from other member states. After Article 50 has been triggered the UK must then negotiate an exit agreement. During this two year negotiation period, EU laws would still apply to the UK. If an exit agreement has not been reached after two years, negotiations can only continue with a unanimous vote from the 27 member states.
Is there any way it won't happen?
Despite a majority vote for Brexit, the vote to leave the EU still has to go through parliament, which does not have a Leave majority. It is likely, given the vote was so close, that there will be strong opposition by pro-Remain MPs. Since Friday three million people have signed a petition calling for a second referendum, declaring that if the vote is under 60% in favour of leave and the turnout is under 75% then the result should be declared void. But is a second referendum actually likely to happen? Constitutional expert Professor Vernon Bogdanor told The Telegraph he thinks this is 'highly unlikely', adding 'I don't think the EU will wish to bargain any further, they will take this vote as final.'
How are the other EU members reacting to the vote?
The founding six member states (that's France, Germany, Luxembourg, The Netherlands, Italy and Belgium) met on Saturday to discuss the impact of the British vote. Despite Leave campaigner Boris Johnson declaring there is no 'real rush' for Britain to exit the EU, the European Commission president Jean-Claude Juncker has told the German media he would like Brexit proceedings 'to get started immediately' and that the suggested meeting point of October should be brought forward. However, German Chancellor Angela Merkel has said there is no need for Britain to rush its exit from the EU.
Who will replace Cameron?
Since the PM announced his resignation, questions have been raised about who will follow him as Prime Minister in October. Boris Johnson has been mooted as a likely successor given his pro-Brexit stance, and is certainly the bookies' favourite, but he could also face strong challenges from Remain campaigner Theresa May, who kept her nose relatively clean during the referendum build-up and has been touted as the best candidate to bring the chaotic Tory party into check. Insiders say Theresa is likely to announce her leadership bid within days.
Will Scotland and Ireland leave us now?
Our friends north of the border voted overwhelmingly to stay in the EU. And given Scotland's very close independence referendum vote last year, politicians including Nicola Sturgeon have suggested that the Scots will now demand a second referendum to break free from the UK. Meanwhile, over in Ireland - which also showed a majority vote to remain - Sinn Fein's Martin McGuinness has called for a vote on Irish reunification.
How will the UK economy react to Brexit?
The economy is already reacting very badly to the news, with a 10% drop in the value of the pound on Friday, the lowest dip since 1985. Immediate economic uncertainty is a given (even Brexiteers have admitted that) though the long term effects are less certain. Some economists have suggested that the UK will stagnate and struggle outside a single market and we are likely to see the effects last for five years. The Governor of the Bank of England Mark Carney has announced a plan to pump £250bn into the economy to help keep it afloat.
Reactions to the news from social media:
Celebrity news, beauty, fashion advice, and fascinating features, delivered straight to your inbox!