Your chance to be mentored by well-being innovator Marcia Kilgore
You could be mentored by well-being innovator and founder of Bliss Spa Marcia Kilgore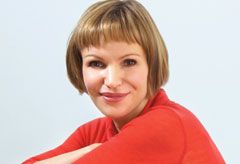 You could be mentored by well-being innovator and founder of Bliss Spa Marcia Kilgore
Seventeen of the most influential women in Britain have joined forces with Marie Claire to become part of Inspire & Mentor with Marie Claire, our brand new campaign.
Women from all walks of life are reaching out to help other women onto the rungs of success.
By pairing short listed applicants with the mentors we believe will help them the most, we hope to help women fulfil their potential, get that dream job, or launch that business they've always hoped for.
CLICK HERE FOR THE FULL DETAILS
Well-being innovator, founder of Bliss Spa, and creator of Soap & Glory and FitFlops, Marcia Kilgore is just one of the influential women you could be mentored by as part of the new campaign.
Marcia moved to New York at 18 with just $300, and became first a personal trainer and then a beautician.
Quite a few 18-hour days and some serious networking later, Marcia opened her first spa - she now has eight around the world, a range of products, and two other successful business ventures.
'After spending two years jogging well-to-do New Yorkers around Central Park, I took a course in skincare and learned how to give facials,' she told us.
'I was working 18-hour days, juggling my one room facial place with my personal training clients.'
But a big break was just around the corner.
'It's difficult to say when I got my big break, as I couldn't pinpoint one particular event,' she reveals.
'It helped that I was young, wasn't afraid of work and didn't need much sleep!
'But it also helped that my sister was a model and had all kinds of fashion connections, that she knew a stuntman who was also a massage therapist and he introduced me to a lot of his clients, or that Lori Goldstein - the world's greatest fashion stylist - started coming for facials and ended up sending in Demi Moore, Uma Thurman, Calvin Klein and Annie Liebowitz.'
But it was all gained though hard work. 'All of these things were 'breaks' but I don't believe you get a reputation through luck,' she says.
'If you don't achieve something, it's because you are not ready for it, not properly prepared, or not in the right position to catch it. It's nobody's fault but your own.'
And her motto? 'I always say, 'What's the point in getting up in the morning to be average?'
If you would like to me mentored by Marcia, click HERE to apply.
Celebrity news, beauty, fashion advice, and fascinating features, delivered straight to your inbox!