Your chance to be mentored by ethical businesswoman Safia Minney
You could be mentored by ethical businesswoman and founder of Fair Trade and People Tree, Safia Minney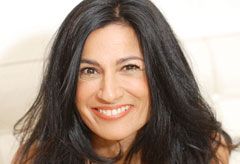 You could be mentored by ethical businesswoman and founder of Fair Trade and People Tree, Safia Minney
Seventeen of the most influential women in Britain have joined forces with Marie Claire to become part of Inspire & Mentor with Marie Claire, our brand new campaign.
The campaign aims to help women scale new heights in industry, and from fashion to film, science to media, we have experts on them all.
By pairing short listed applicants with the mentors we believe will help them the most, we hope to help women fulfil their potential, get that dream job, or launch that business they've always hoped for.
Ethical businesswoman, founder of Fair Trade, and the brains behind ethical clothing company People Tree, Safia Minney is just one of the influential women you could be mentored by as part of the new campaign.
Safia left school at 17 with a handful of O levels and went to work as a production assistant on the Sunday supplement of the News of the World.
After moving to the Creative Review, she took evening classes in PR and advertising, and finally set up Global Village to import Fair Trade products.
'I've always had a very strong sense of social issues and human rights, and I found it quite questionable how advertising and image work was being used to motivate people to buy stuff they really didn't need or want,' she told us.
And it was this that spurred her on. 'I thought it could so easily be used to promote social issues, or promote green issues.'
Safia's breakthrough came after running a gorilla gram for Valentine's Day. 'It worked fabulously well and I broke even, so I realised that I could run a business,' she reveals.
And just two years after starting ethical company Global Village, Safia started importing Fair Trade products.
'It grew until we were running about 40 events every year and then had our own shops and stockists in Japan.'
'We had about 18 people in our house and it just became impossible to function! The living room, dining room and four bedrooms were turned into offices, while the garage became People Tree for our mail order business.'
'Now, we have an executive board with some very high up people - one of them is Jane Shepardson who is CEO of Whistles.'
But running an ethical business is not without its difficulties.
'There are still some struggles with People Tree because there just isn't the finance out there to support the expansion and development of fair trade businesses' Safia reveals.
But despite this, she would never want to do anything else. 'I didn't have a Plan B when I started this,' she laughs.
If you would like to me mentored by Safia, click HERE to apply.
Celebrity news, beauty, fashion advice, and fascinating features, delivered straight to your inbox!