Marc Jacobs' Dakota Fanning ad banned
An advertising campaign for Marc Jacobs' new fragrance Oh Lola! has been banned in the UK, after watchdogs deemed it 'likely to cause serious offence'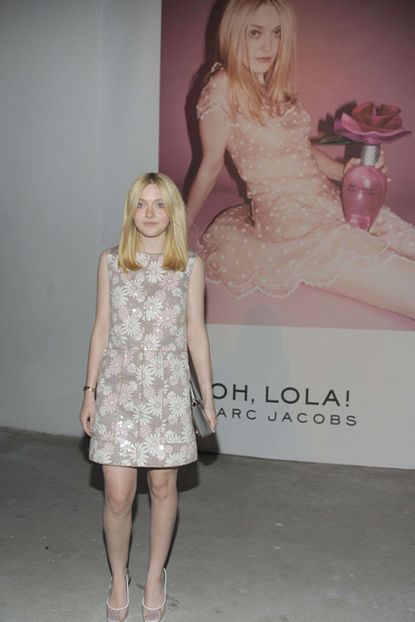 (Image credit: Rex)
An advertising campaign for Marc Jacobs' new fragrance Oh Lola! has been banned in the UK, after watchdogs deemed it 'likely to cause serious offence'
An advertising campaign for Marc Jacobs' new fragrance Oh Lola! starring Hollywood teen actress Dakota Fanning, has been banned in the UK, after advertising watchdogs ruled it was irresponsible and 'likely to cause serious offence'.
DAKOTA FANNING'S STYLE HIGHS AND LOWS The Twilight actress, who is now 17-years-old, has been a favourite face of Marc Jacobs' since she was just 13.
But advertising watchdogs have said her latest campaign for the star designer has gone too far, and have banned the ad in the UK.
Dakota is seen wearing a short dress and holding the perfume bottle between her thighs in the picture campaign, in what the advertising regulator deemed a 'sexually provocative' position.
The advert featured in last weekend's Sunday Times Style magazine, which resulted in readers complaining to the Advertising Standards Authority that it was 'offensive and irresponsible' because it portrayed the young model in a 'sexualised manner'.
A spokesman from the ASA said, 'We understood the model was 17 years old but we considered she looked under the age of 16. We considered that the length of her dress, her leg and position of the perfume bottle drew attention to her sexuality.'
'Because of that, along with her appearance, we considered the adcould be seen to sexualise a child. We therefore concluded that thead was irresponsible and was likely to cause serious offence.'
Dakota was hand-picked by the designer for the new Oh Lola! campaign, who described the Twilight star as a 'contemporary Lolita'. Her sister 13-year-old sister Elle Fanning, has also starred in the designer's campaigns.
Do you think the advert should have been banned? Are Dakota and Elle too young to be modelling for seductive shots? Tell us what you think in the comments box below... DAKOTA FANNING'S STYLE HIGHS AND LOWS
Celebrity news, beauty, fashion advice, and fascinating features, delivered straight to your inbox!