Fifty Shades of Grey knocked off erotic fiction best sellers list by Mills & Boon title
50 Shades has been forced to make way for the latest saucy book on the block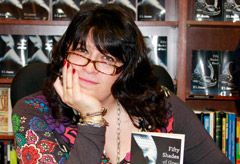 (Image credit: Rex Features)
50 Shades has been forced to make way for the latest saucy book on the block
Fifty Shades of Grey had topped every book and bestseller chart possible, until now. The dream had to end at some point and it appears it now has as a new Mills &Boon title has stolen first place from 50 Shades in the erotic bestsellers chart.
50 SHADES OF GREY NOMINATED FOR BOOK AWARD
Sitting seductively at the top of Amazon's list is The Siren by Tiffany Reisz from Mills & Boon. The book has dominated this week's sales despite being released in May and is the most popular erotic download for the Kindle.
And just like its predecessor, 50 Shades, The Siren is heavily littered with BDSM scenes and many an erotic moment. Although EL James doesn't have to worry too much, she's still raking in the royalties as Fifty Shades of Grey is in fourth position in the chart with Fifty Shades Freed just ahead of it.
TWO OUT OF THREE WOMEN HAVE EXPERIMENTED WITH BONDAGE
What do you think, is it about time a new book topped the bestseller list? Let us know below.
Watch our choice Fifty Shades of Grey movie cast contenders in our video:
30 THINGS YOU DIDN'T KNOW ABOUT 50 SHADES OF GREY
KRISTEN STEWART CREEPED OUT BY 50 SHADES OF GREY
Celebrity news, beauty, fashion advice, and fascinating features, delivered straight to your inbox!