Reshma Saujani - 'Failure won't break you; it will only make you stronger'
We speak to Reshma Saujani, founder of Girls Who Code and author of Brave Not Perfect, and her journey to becoming brave, not perfect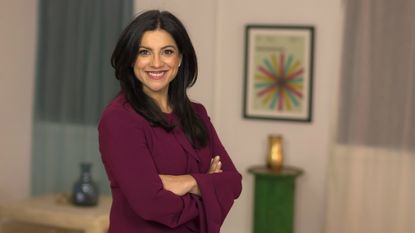 (Image credit: Salon Media Group)
We speak to Reshma Saujani, founder of Girls Who Code and author of Brave Not Perfect, and her journey to becoming brave, not perfect
Next in our Women Who Win series is Reshma Saujani, 43, the founder of Girls Who Code, a non-profit organisation that wants to close the gender gap in technology by teaching computer science to girls. A graduate of Yale Law school, in 2010 Reshma was also the first Indian-American woman to run for Congress. Her 2016 TED talk 'Teach girls bravery, not perfection' has been viewed over four million times.
Her new book, Brave Not Perfect, is a rallying cry for women, and a scathing and timely criticism of how society encourages boys to be brave and bold, whereas girls are socialised to be perfect.
Saujani isn't just focusing on gender inequality in the abstract: her non-profit Girls Who Code addresses the huge gender gap in an industry that has an enormous impact on our lives. Since 2012, 90,000 girls have benefitted from Girls Who Code in the USA, and the clubs are becoming fixtures of the UK educational landscape.
Saujani explains the importance of these kind of initiatives: 'We live in a culture that tells girls that maths and science isn't cool, and it's not for you. And it's been like that for decades, so it's fighting against that culture and making something cool and relevant for girls.'
We spoke to Reshma about her students, her role models, and her incredible journey to becoming brave, and not perfect.
I was leading marches when I was 13
'I've always been passionate about creating opportunities for girls, or for those who are working class, or poor. The first march I led was for a group called PRISM: Prejudice Reduction Interested Students Movement – I've got better at naming organisations! I grew up in a Mid-Western town and there weren't a lot of people that looked like me. I remember when my mother would wear a sari and go to the local K-mart with a bindi on her head, she would get made fun of. I wanted to educate my town about diversity.'
I got permission to live authentically
[When I was working as a lawyer] I would come home every day and be in the foetal positiob: I hated my job! If you asked Reshma when she was 13 years old,what she wanted to do, she would say that she wanted to be in public service. And when I was 33, I found myself working in finance to pay off my student loans and make my immigrant parents proud, but I wasn't living my dream. I remember having a conversation with one of my best friends, and she said, 'You know what, just quit.' And it was the first time, someone kind of gave me permission for me to start living my life authentically'
Failure won't break you
'Before I ran for Congress, I had done everything right. It was the first time that I had done something that didn't really work out. Every worst thing I imagined could happen, happened. I lost, it wasn't even close, I was humiliated, and was shunned by the Democratic Party for stepping out of line. But I realised that it didn't break me! The day after the election, I cried and cried, but with failure, it's good to give yourself a finite amount of time to grieve about it and then to move on. Bravery is like a muscle – you do the first risky thing, and it opens the door to more and more acts.'
Girls are constantly thinking about how they can make the world better
'We had one of our first Girls Who Code students build an algorithm to help detect whether a cancer was benign or malignant, because her father had cancer. Another of our students was the youngest woman to get a patent at the University of Pennsylvania. She had created a device that, if you put it into a gun, it goes off when the gun is in an unrestricted place, such as a school. I feel blessed to work with these amazing girls. They are the change makers, and they inspire me every day.
My father is my role model
I think my father taught me a lot about resilience, and he taught me a lot about being humble and what's possible. You know, my parents came [to the USA] as refugees from Uganda. Coming here with nothing, no family, not knowing the language, having my sister in my mother's belly, and then me a few years later, and just building a life for themselves, that's pretty remarkable.'
Brave, Not Perfect by Reshma Saujani is out now, published by HQ
Celebrity news, beauty, fashion advice, and fascinating features, delivered straight to your inbox!