'My mum inspired my career'
With celebrity clients and Gok Wan as his best friend, Hairdresser of the Year Jamie Stevens tells Marie Claire how his mum inspired his career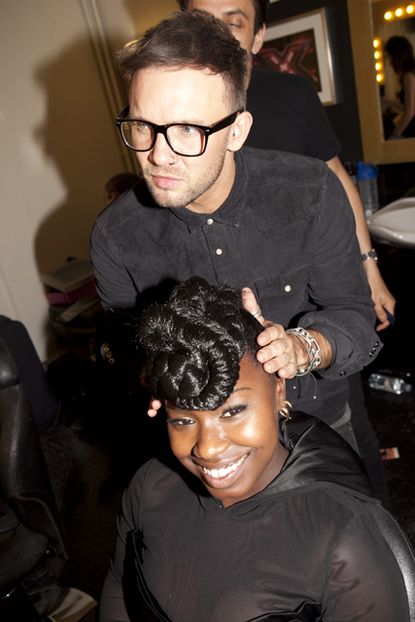 With celebrity clients and Gok Wan as his best friend, Hairdresser of the Year Jamie Stevens tells Marie Claire how his mum inspired his career
'I started out wanting to be a professional footballer like my dad,' says celebrity hairdresser Jamie Stevens, whose regular clients include Hugh Grant and Elle Macpherson.
Playing for Bristol City from the age of 16, Jamie tore the ligaments in his ankle six times and was told he wouldn't play again. 'Hairdressing was my back-up,' he says.
Growing up in his mum's salon, Jamie had been handing her clips and rollers from the age of 10. 'My brother and I would sit on the client's laps while mum cut their hair. It was like having 100 nans.
'After my football injury, I picked up a pair of scissors and realised I could do everything just from watching my mum,' says Jamie. 'She's been the biggest mentor in my life and in my career without a doubt.'
When Jamie was 18, a car accident forced his mum Lorraine to stop working so he took over the management of the salon in Somerset. 'I was naïve and knew nothing about running a business so it was a big learning curve.
'I always give everything my all so I didn't just want to work in my mum's salon for the rest of life,' says Jamie. 'I wanted to be cutting Madonna's hair. I'm still working on that one.'
With his sister modeling for Storm, the 22-year-old hairdresser accompanied her up to London for a shoot and introduced himself to celebrity hairdresser Daniel Hersheson.
'I walked straight up to him and shook his hand,' says Jamie. 'I've always believed that it's important to set your sights high to achieve your full potential.'
Through Hersheson, Jamie met Beverly Cobella who offered him a stylist position at her salon. Within three years he had worked his way up to Artistic Director, before joining Errol Douglas in 2007.
'I've worked my butt off, seven days a week and I haven't had a holiday for three years,' says Jamie. 'But you get out what you put in.'
Now the resident X-Factor hairdresser, Jamie admits it's a tough job but mingling with Kelly Rowland and Gary Barlow make it all worthwhile. 'I love what I do so it doesn't feel like work.
'Mum taught me the importance of dedication. She went back to the salon the day after I was born. I think that's where I get my determination from.'
Jamie's success tips
Don't expect to start at the top – 'Having run my own salon for four years in Somerset, I went to London and held Daniel Hersheson's hairdryer for him for six months. When you're starting out, it's not about what you know, but who you know.'
Be indispensable – 'I remember Gok Wan calling me one Saturday night and asking me to do his hair the following morning. I dropped everything. It's important to make yourself indispensable when an opportunity comes along. Now he's my best friend as well as a client.'
People skills are key – 'You can be the best hairdresser in the world but if you don't have the personality you won't succeed. 50 per cent of hairdressing is about socialising. It's about the experience.'
Experience is priceless – 'When I went to work for Errol Douglas I took a massive pay cut, but I knew that having my name affiliated with his would open doors for me. Working with him has been invaluable for my career.'
Jamie Stevens self-titled salon opens in Kensington, London, this April. For more information, visit http://www.hairbyjamiestevens.co.uk/
Celebrity news, beauty, fashion advice, and fascinating features, delivered straight to your inbox!