Marie Claire helped me get published
With her first novel hitting bookshops on Thursday, we caught up with Marie Claire reader Emylia Hall to find out how she got published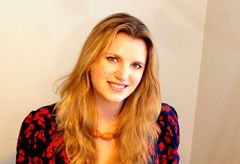 (Image credit: Bristol Evening Post)
With her first novel hitting bookshops on Thursday, we caught up with Marie Claire reader Emylia Hall to find out how she got published
'I wanted to give it one last push,' says Emylia Hall, 33, who attended Marie Claire's How To Get Published event back in 2010, and has since secured a two-book deal with Headline.
A self proclaimed tomboy, Emylia grew up in a creative household with her artist father, reading and writing from a young age. 'I was usually found up a tree reading Arthur Ransome's Swallows and Amazons. I just loved the adventures,' she says.
'After graduating with an English degree, I fell into advertising and got swept up in a different sort of life. But I got fed up of putting all my energy into a career I didn't believe in.'
Quitting her job, Emylia moved from London to Bristol in 2007 and went part-time at a marketing agency to create more time for writing. But it wasn't until 2010 that she heard about Marie Claire's How To Get Published event.
'I turned up with a full manuscriptbut it was very rough and sloppy. I had no idea whether it was any good, or even how to approach publishers,' she says.
With a panel consisting of an author, a publisher and an agent, How To Get Published provides a well-balanced overview of the industry from different perspectives. 'It was brilliantlyinspiring,' says Emylia.
'What impressed me most was the honesty. I didn't feel delusional, but it completely changed myattitude. I knew it would be hard to get my book published, but I went away believing I could.'
After six months researching publishers, Emylia sent off a synopsis and the first three chapters of The Book of Summers to Rowan Lawton at Peters Fraser & Dunlop in January 2011.
'I was on a beach in Devon when I got the call from Rowan saying Headline were interested in publishing my book,' she says. 'I ran straight in to the sea, still wearing my jeans.'
'I used to dream about seeing my name on the spine of books,' says Emylia. 'I remember the emotion of wanting this so badly, but now it's actually happening it feels weirdly normal.'
Emylia's tips on getting published
Be serious – 'Every writer works best under different conditions but I can't write a novel on a 30-minute lunch-break. Give yourself the necessary time and headspace you need to be creative.'
Set deadlines (and stick to them) – 'I'm vigilant with my daily word count to ensure each day is productive. I aim to write 1,000 good words a-day to stay on target. If you allow yourself to be distracted, you're the only one who will suffer.'
Be objective – 'If I'm feeling disheartened I remind myself of Hemingway's quote: 'The first draft of anything is sh*t.' It's important to get everything down on paper so you have something to work with, but don't be afraid to use the delete key.'
Find an agent – 'Every Christmas for the past few years I've received the Writers and Artist's Yearbook. Don't send your manuscript to every agent out there - research those that specialise in your genre and find out which authors they represent.'
Believe in yourself – 'At the How To Get Published evening, Harriet Evan's said: "Writing is competitive but tell yourself you deserve to be in the competition." It's a buoyant industry that is always looking for new writers, so start seeing yourself as a contender.'
The Book of Summers by Emylia Hall (Headline, £12.99) is available from Thursday 1st March
Celebrity news, beauty, fashion advice, and fascinating features, delivered straight to your inbox!