Marie Claire gave me the confidence to self-publish
Beauty PR and children's book writer Sarahjane Funnell, 26, shares her hints and tips on self-publishing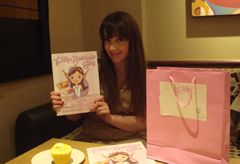 Beauty PR and children's book writer Sarahjane Funnell, 26, shares her hints and tips on self-publishing
A beauty PR used her skill at spotting trends to create a new children's book character - and has published the book herself.
With a degree in fashion journalism from Epsom UCA, it was her quick thinking after seeing pastels on the catwalk that inspired Sarahjane Funnell, 26, to write a book about a little girl and ice cream.
'I knew ice cream was going to be a massive trend this year,' says Sarahjane Funnell, a PR officer for Lush and author of children's book Phillipa Knickerbocker Glory.
Naming her character after Phillipa Middleton, she came up with the idea for a children's book after she drifted from fashion into the children's section in Waterstones.
'I was mesmerised by the stories and characters. They were so vibrant,' says Sarahjane. 'But there was definitely a gap in the market for a new girl character.'
Having submitted her manuscript to a handful of publishing houses, Sarahjane attended the Marie Claire How To Get Published event last August.
'It was fantastic,' she says. 'Everyone was asking questions so I just stuck my hand up and asked Rowan Lawton from PFD whether she would recommend self-publishing.'
Within three weeks Sarahjane had found a publisher, an illustrator and got herself a £5,000 loan from the bank. 'I got 5,000 copies printed and used my work Christmas bonus to trademark the name Phillipa.'
Sarahjane also attended our How To Get into Business event in January to listen to Nails inc. founder Thea Green talk about setting up your own business.
'Being self-published I have to do all the promotional stuff myself,' says Sarahjane. 'I use Twitter and Facebook a lot to promote my book and I've got 11 book signs lined up.'
When asked how she fits in a full time job she says: 'I use my Epping to London commute as my thinking time.'
My boyfriend is a teacher so when we get home from work, he marks books and I write,' says Sarahjane. 'Time is valuable and I make every minute count.'
Sarahjane's book, Phillipa Knickerbocker Glory (£7.99) is available from most Waterstones and WHSmith.
Sarahjane's top tips on self-publishing
Register your trademark – It costs about £250 to register in one category but I registered the name 'Phillipa' in about 13 so that I have the licensing option if all goes to plan.
Do your sums - I don't have commitments at the moment like a mortgage or children so I can afford to put everything in to my book, but I have had to cut back on my shoe habit!
Blog about it – If you're not in the financial position to self-publish, blog about your writing experience and ideas and get people interested. It also helps to build up your contacts.
Be 100 per cent dedicated – In his book, Duncan Bannatyne says, 'Those people that invest something in themselves and have something to lose are the people most likely to succeed.' Don't waste time and money on a half-hearted venture.
Make it happen - Time was against me so I knew I had to get my book published fast. Self-publishing allows you to have a say in everything from the illustrations to how the words appear on the page. It's really rewarding when you see the finished product.
Celebrity news, beauty, fashion advice, and fascinating features, delivered straight to your inbox!