From a fashion leader to a humanitarian hero, meet our 2017 future shapers
We've scoured the country to find 2017's hot new innovators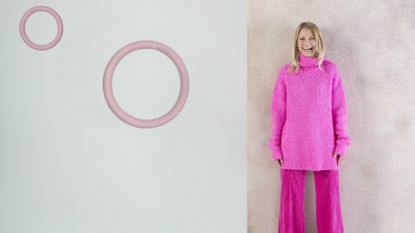 We've scoured the country to find 2017's hot new innovators
Each year, Marie Claire celebrates the women truly shaking up the way we work and live at our annual Marie Claire Future Shapers awards.
These 11 women are all genuine modern trailblazers breaking fresh ground in their respective industries and shaping the future for women across the UK. We honoured them in style at our annual Future Shaper Awards, in partnership with Neutrogena at One Marylebone last week, a glittering ceremony attended by host of VIPs. In case you missed it, here are the highlights.
Here they reveal what motivates them and the career tips you can learn from their incredible journeys.
The Fashion Leader
Holli Rogers
The first of our Marie Claire Future Shapers, Rogers, 48, is CEO of Browns fashion boutique and launched the company's first full re-branding for 47 years in 2016, achieving triple-digit growth. Prior to this, Rogers was a founding member of Net-A-Porter, where she established and led the buying direction for the launch of The Outnet and Mr Porter
'Time flies when you're having fun. I've been CEO of Browns for two years now and it has been hugely rewarding to watch the company grow. The re-brand in 2016 was a bold move, but the response from our customers and the industry has just been phenomenal.
Everyone wants to be a part of something special. To me, Browns is a movement; we want our customers to feel that they are part of something, and to create an emotional dialogue within this collective. Browns has always pushed boundaries, so I plan to continue that legacy.
Surround yourself with strong, supportive women. Without the women in my life, I wouldn't be where I am today. They instilled an element of confidence and ambition within me that I draw upon every day. From teachers at university who did everything in their power to help me get a key scholarship; to my manager on the shop floor at Neiman Marcus who pushed me to discover my ambition; to my mentor Ginny Hershey-Lambert – these women were instrumental in helping me realise my potential.
We should all stand for kindness, inclusivity and compassion. Browns launched a campaign in February this year called 'Cool To Be Kind', which everyone in the organisation, including myself, embodies. I try to lead in a democratic, non-hierarchical way, as I find this gets the very best out of everyone.
Happiness is finding humour in everything. Imposter syndrome is prevalent and we can be tough on ourselves. It's important to make time for good old-fashioned fun.'
The Stem Pioneer
Anne-Marie Imafidon MBE
Our next Marie Claire Future Shapers winner Imafidon, 28, is the founder and CEO of Stemettes, a social enterprise that encourages and supports girls into careers in STEM (science, technology, engineering and maths). This year, she was awarded an MBE for services to young women and STEM sectors
'Attending a tech conference in the US for women was life-changing. It was like London Fashion Week, but for tech women. I felt at home for the first time ever, and it inspired me to create similar spaces in the UK and Ireland for girls and women. Technology is about helping others and being creative. I want all girls and women to know they can explore that world without any fear.
Do your research, get started and go for it. It's easy to overthink things, but you learn more and get more traction on an idea when you start moving. Don't feel like you have to hide your business until it's fully formed. It's easier for people to get behind you if you can say, "This is what I'm trying to solve."
Success is about freedom to do the things I like. I love my sleep and watch far too much TV, so that's how I maintain a balance during my six- sometimes seven- days-a-week work schedule.
Happiness is seeking forgiveness, not permission. Don't let others kill your great ideas before they get off the ground.'
The Broadcasting Powerhouse
Vick Hope
This Marie Claire Future Shapers award-winner is currently host of London's No 1 breakfast radio show on Capital FM alongside Roman Kemp, Hope, 27, is also a TV presenter and a print and broadcast journalist. She is passionate about helping refugees and recently started up a weekly storytelling group for refugee children in Hackney, London
'It all begins with your parents. Mine shaped who I am. My mum is a strong African warrior princess who came over from Nigeria at the age of 11 during the Nigeria-Biafra war. She lived in a tiny flat in Newcastle and didn't speak a word of English. My dad's traditional Geordie upbringing couldn't be more different from my mum's early years, yet in spite of the many difficulties they faced, they make the perfect team.
Whatever your platform, use it for good. My mum's experience of war and as an immigrant to the UK has made these things important to me, which is why I volunteer for a local refugee project in Hackney. The storytelling group I set up gives guests the chance to share their experiences.
Accepting failure is one of the healthiest things you can do for your career. Setting goals and single-mindedly sticking to a plan works for some people, but I've found it makes failure feel negative and insurmountable. Situations change, you change, and the world around you changes so it's OK if your goals change, too.
Happiness is supporting one another. As women, we are not yet equal in the workplace; we don't have the same opportunities as men, and we should. The least we can do is make each other stronger where possible.'
The Women's Rights Warriors
Cara Sanquest & Hannah Little
These Marie Claire Future Shapers, Cara Sanquest (above right), 26, and Hannah Little, 27, are co-founders of the London-based ARC (London-Irish Abortion Rights Campaign) group calling for free, safe and legal abortion in the Republic of Ireland, and the decriminalisation of abortion in Northern Ireland. This summer, their efforts helped force the UK government to pledge NHS funding for abortions for Northern Irish women
'Our laws fail women who need abortions. Around eleven women a day are forced to travel from Ireland and Northern Ireland to Britain for abortions – over 3,000 women last year. The trip and procedure can cost up to €2,000 [about £1,830]. It's sad to think that some people feel this is acceptable.
Women's lives are at risk. After hearing about Savita Halappanavar, a woman from Galway who died after being refused an abortion while miscarrying, we couldn't ignore Ireland's laws any more.
It's up to all of us to set the political agenda. As young women living in London, it's strange to think that taking the abortion pill, which is available on the NHS, carries a 14-year prison sentence in Ireland, and life in prison in Northern Ireland.
We have a fierce desire to make change happen. We do all our activism in our spare time alongside full-time jobs. Every project is carried out by volunteers, whether it's meeting with MPs at Westminster, planning a fundraising comedy gig for 500 people, or organising a protest. We were the first pro-choice group to march in a St Patrick's Day parade in London this year.
Abortion rights shouldn't fall only on those with first-hand experience. We all need to act. At our first meeting at Amnesty International, we booked a room for 30 people, and within 24 hours, 300 people had signed up.'
Happiness is about not allowing your job to define you. There is pressure today to find an all-encompassing role that is challenging and rewarding, and that makes a difference. But you can commit to a day job and focus on passion projects at the same time.'
The Humanitarian Hero
Zarlasht Halaimzai
Halaimzai, 35, is the co-founder of the Refugee Trauma Initiative (RTI), which provides psychosocial therapy and counselling (or psychological first aid) to children and families at refugee camps in northern Greece. So far, this Marie Claire Future Shapers winner has helped more than 2,000 vulnerable people
'Bridging the gap between those who have opportunities and those who don't has never been more important. I had to flee my home in Kabul when I was 11 because of a brutal civil war. My family travelled as refugees for the subsequent four years and experienced discrimination, racism and poverty. That had a huge impact on how I see the world.
With a little support, people can overcome a lot. I met an Afghan family with two children who had been stuck in a refugee camp for months. We set up a tent and did mindfulness activities and yoga for kids and, in the course of eight weeks, the difference in the children was incredible. Their sense of childhood joy came back.
"If you can square it with your conscience, try anything and make it work." That's what my grandmother said to me when I was young. A lot of the families I work with had totally normal lives, working in schools or shops, or studying to be engineers. Then one day their lives just got taken away.
Happiness is having a boundary between your work and your home. I run the organisation so there's always work to do, but I'm strict about making time to do meditation and yoga, and to read every day.'
The AI Innovator
Tabitha Goldstaub
Goldstaub, 31, is the co-founder of CognitionX, which aims to bring clarity to the fast-paced world of artificial intelligence (AI), and ensure that women play an equal role in it
'Don't let tech be something that 'other people' do. Artificial intelligence – machines thinking intelligently – is going to affect everybody soon, so start understanding how it will impact you. Use tech, teach it your ways of operating, get frustrated, and keep plugging away until you get it. This is what the future will look like.
Our reliance on AI is increasing. When cars were first manufactured, women died in car crashes because the airbags were designed for the shape of men only. Imagine if an AI of the future didn't recognise a woman's voice? When technology is designed only by and for men, it can have dangerous consequences.
Be the most prepared person in the room. With the current pace of innovation, the best way to walk into every room with confidence is to be on top of it.
Have inspiring friends. Mine are professors, film directors, start-up founders, designers, marketing gurus and even winemakers. We strive for different work goals, but ultimately all want a career where we can make a difference.
Happiness is loving your work for what it can create. For some, that's time with their families; for others, it's a greater societal goal.'
The Trans-Rights Trailblazer
Charlie Craggs
This Marie Claire Future Shapers winner is trans activist Craggs, 25, is the founder of Nail Transphobia, a pop-up nail salon offering free manicures around the UK, giving people a chance to sit down and chat with a trans person. She aims to tackle prejudice through education and understanding. She has starred in campaigns for Selfridges, the V&A and Stonewall
'My life became harder once I transitioned. Everyday things like getting the bus, using public toilets or going to the shops became difficult because of the harassment I would get. Early on in my transition, I was assaulted at a packed bus stop, and not one person there helped me. I would pray before leaving the house that I'd make it home in one piece. These experiences encouraged me to dedicate my life to fighting transphobia.
In 2013, the only time you heard about trans people was on The Jerry Springer Show. I set up Nail Transphobia as a way to break misconceptions and humanise the issue. I wanted to create a safe space where I could educate people in a friendly, accessible (and fabulous) way.
If life gives you lemons, make lemonade; if life gives you a penis, make a career out of it! I'm in a different city every week, either with my pop-up salon or giving a talk. When I'm not travelling, I'm at home writing about trans issues (my book To My Trans Sisters is out this autumn).
Never stop learning. I take a note pad and pen everywhere because I always have my best ideas when sitting on the Tube. If you add up those hours of your daily commute, that's ten extra hours a week you could be developing your big idea to change the world.
Happiness is taking time to recharge your batteries. My work is emotionally laborious, so I try to spend at least one day a week doing nothing.'
The Sustainability Guru
Jessi Baker
Our next Marie Claire Future Shapers winner Baker, 33, is the founder and CEO of Provenance.org, a social enterprise that is transforming consumer habits by making supply chains transparent and traceable
'Great things often grow from frustration. I started Provenance because, as consumers, we knew so little about the things we buy. I believe that we all have the power to make the world more inclusive, fair and sustainable, starting with buying products that have a positive social and environmental impact.
You don't have to accept the world as it is. That's something my parents taught me, which I try to live by. Everything built in the world is created by other people, so you can change it just as much as anyone else can.
Everyone has a light-bulb moment. Mine was realising that when we buy products, we don't think beyond the actual store. While I was studying manufacturing engineering, I got to travel through many supply chains around the world, seeing the good and the bad.
Sustainability requires a currency of truth. Last year, I worked with a sustainable fishery in Indonesia, giving them a solution and ensuring that the money they made all came back to them. We also worked with the Soil Association in the UK, bringing the farming community into the digital world.
Happiness is knowing you can do anything, but not everything. That mantra helps me make time for my family, friends and partner.'
The Counter-Extremism Activist
Fatima Zaman
Our youngest Marie Claire Future Shapers winner Zaman, 24, is an advocate for Countering Violent Extremism (CVE) at the Extremely Together Programme of the Kofi Annan Foundation. She has led policy and worked with communities and women's groups both in the UK and internationally, delivering prevention programmes. She also pioneered the first ever CVE roadshow in the UK
'The 7/7 London bombings changed my life. I was in my early teens, sitting in school, when we felt the ground shake from the Aldgate blast. We were evacuated because the school doubled up as a refuge centre. The injured were being brought in as we were escorted out. I felt the effects of that day for a long time afterwards.
As a Muslim woman, I couldn't sit back. I had to speak up – not just on behalf of my community, but on behalf of all Londoners – to say we wholeheartedly reject extremism.
Find a mentor. Mine is Kofi Annan, former UN secretary-general and Nobel Peace Prize laureate, who saw the positives I could bring as a twenty-something female from an ethnic-minority background. He trusted my instincts on how to find a youth-led approach to countering extremism.
"Educate to inoculate against hate," that's my motto. This job is tough and difficult, and often dangerous. Some days you are doing brilliant front-line work with young people to empower them; other days you are working with someone who is already at risk of extremism.
Prevention is better than cure. One teenager at one of my workshops stood up and said, 'I'm Muslim and I'm sick and tired of having to apologise for extremists.' We put her through a supportive programme and helped her to channel her frustration in the right way.
Happiness is making a difference. On good days, I like to think I have changed a life, by positively preventing an individual from subscribing to extremism.'
The Conscious Councillor
Georgia Gould
Our final Marie Claire Future Shapers winner Gould, 31, was elected as councillor for Kentish Town, aged just 24. This year, she was elected leader of Camden Council. In 2015, she published her book Wasted: How Misunderstanding Young Britain Threatens Our Future
'Tackling inequality is crucial. Camden is a diverse community with world-leading cultural, science and creative sectors, but we also have deep inequalities, with a ten-year difference in life expectancy from one side of the borough to the other.
Use your experiences to drive you. I saw too many classmates fall out of education early. The frustration I felt at that wasted potential has driven my sense of purpose ever since. It led me to become a school governor and take up political campaigning, and it was the first issue I took up when I became a councillor.
Learn from the tough times. I lost my dad when I was 24, and felt like my identity was being cracked into tiny pieces. I had to put myself back together and, in the process, work out where I could find happiness and purpose. Dad had been writing a book when he died and I ended up finishing it for him. It forced me to find my own voice.I also learned a lot from him about living with integrity and optimism.
Most things worth doing sit on the other side of fear. I spent a lot of my twenties worrying about not being good enough or letting people down. But I am happiest and make the best decisions when I let go of trying to impress anyone and focus on why I am doing something.
Happiness is facing your fears. I used to be terrified of public speaking, but I wanted to be able to speak up for people who didn't have a voice, so I forced myself to do it.'
Celebrity news, beauty, fashion advice, and fascinating features, delivered straight to your inbox!