Find Your Stress Personality
If you have three or more symptoms in each checklist, try the action plan to help recover. It's possible to be more than one stress personality at a time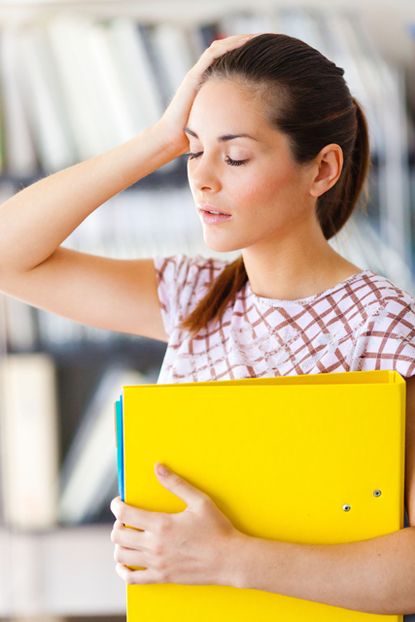 (Image credit: REX)
If you have three or more symptoms in each checklist, try the action plan to help recover. It's possible to be more than one stress personality at a time
1. Stressed and wired
Symptoms and signs...

- Feeling like you're on constant alert (smartphone by the bed)
- Difficulty relaxing and/or getting to sleep
- Quick to react to stressful situations
- Can't bear an empty diary
- Feeling more and more unable to cope
- Mood swings, irritability, thin on patience
- Light-sound- or crowd sensitive

1. Stressed and wired
Symptoms and signs...

- Feeling like you're on constant alert (smartphone by the bed)
- Difficulty relaxing and/or getting to sleep
- Quick to react to stressful situations
- Can't bear an empty diary
- Feeling more and more unable to cope
- Mood swings, irritability, thin on patience
- Light-sound- or crowd sensitive

Weight-loss plan:
Snack on celery: Four stalks a day can lower blood pressure (the chemicals apigenin and phthalide expand blood vessels), activate the calming part of the nervous system and ease insomnia.
Avoid Mercury-toxic fish: This affects the adrenal glands (which produce stress hormones) and the thyroid, leading to headaches and insomnia. Avoid tuna, swordfish and marlin, and add coriander, garlic, cabbage and watercress to detoxify any mercury build-up.
Up your magnesium: Take 300-400mg in the evening to help promote restful slumber. Try Lambert's Magasorb Magnesium Citrate, £7.09 (Nutricentre.com). Magnesium rich foods include mackeral, green leafy vegetables and almonds.

2. Stressed and tired
Symptoms and signs...
- Feeling tired on waking
- Using sugar and/or caffine for energy
- Afternoon/ evening energy dips
- Feeling fuzzy-headed or lacking focus
- Evening exhaustion
- Feeling cold and sluggish
- Waking with a start at 3am

Weight-loss plan:
Watch Life's Too Short: Or do whatever makes you giggle. This naturally raises the anti-stress hormone DHEA that promotes healing and reduces the stress response. Low levels of DHEA are associated with weight gain.
Coffee after breakfast/lunch: Tired types often rely on caffine, but coffee on an empty stomach leadsto exhaustion and false hunger later. Drink less coffee only after eating, and the energy hits the system in a slower way- without the crash. Limit it after 2pm, though, so sleep doesn't suffer.
Top up energy nutrients: Check you're getting enough iron (found in meat, seafood, eggs, prunes, spinach and beans) and vitamin B12 (found in seafood, milk, mushrooms, tofu and miso soup). Or take 4-40mg iron and 100-1000ug vitamin B12 in a good multivitamin, such as Biocare One A Day Vitamins and Minerals, £8.90 (biocare.co.uk).

3. Stressed and bloated
Symptoms and signs...
- Bloating and/or wind after eating
- Digestion or irritable bowel syndrome (IBS) symptoms that get worse when you're stressed
- Food sensitivities to substances such as wheat and dairy (you may also crave these)
- Constipation or diarrhoea
- Headaches
- Greasy/ pale coloured stools
- Long-term use of steriod medication or antibiotics
- Diet high in sugar or refined carbohydrates

Weight-loss plan:
Enzyme help: Take one to three digestive enzyme capsules with every meal to help your body break down food by reducing stress hormones. Best taken in the first few mouthfuls. We like Lamberts Digestizyme, £13.22 (nutricentre.com).
Feed your gut: You've heard of probiotics (good bacteria for the gut). Turns out you also need prebiotics. These feed the existing good bacteria in your gut and have been shown to lead to weight loss through appetite control. Prebiotic foods include almost all vegetables but especially Jerusalem artichokes, chicory, garlic onions, leeks and bananas.
Parsley please: It contains apiol and myristicin which ease bloating by helping get rid of excess water, uric acid and salt. Ginger, mint and turmeric also have a calming effect on the gut. Try them in tea, such as Pukka Green Chai, £2.25.

4. Stressed and demotivated
Symptoms and signs...
- Lack of get up and go
- Tendency to depression
- Feeling less positive than before
- Craving chocolate, ice cream or other sugary foods
- Late-night bingeing or overeating
- Insomnia or waking around 3am
- Wanting to withdraw at weekends
- Seasonal affective disorder (SAD) or winter blues

Weight-loss plan:
Get moving - outside! Sunlight and movement are essential to elevating mood. Hiding from the world ends up lowering levels of serotonin- a brain neurotransmitter that govens mood- and Vitamin D, also essential for mental health.
Lighten the load: If getting daylight is difficult, use an artificial light box for 30 minutes a day at your desk to fight fatigue and SAD. You can rent before buying at healthyhouse.co.uk, from £22.80 a month.
Natural highs: Sugar creates a surge of betaendorphins or natural opiods in the brain, which is caused by demotivated types. But we can make our own too, by listening to music, socialising and having sex. All good.

5. Stressed and sore
Symptoms and signs...
- Cravings for refined carbohydrates such as pasta, cakes or bread
- Irritable bowel syndrome and other digestive conditions
- Sudden weight fluctuations or fluid retention
- Frequent infections of the ear, nose or throat
- Skin conditions such as acne, psoriasis or eczema
- Sore joints
- Frequent cold
- Difficulty losing weight (especially around the tummy)

Weight-loss plan:
Eat brighter: A diet high in antioxidants can counteract the effects of pollution, burned and fried foods and everyday chemicals that exacerbrate your immune system's reaction to stress. Rich sources include brightly coloured vegetables and fruit, red wine, dark chocolate and garlic.
Mind your Gs and Bs: That's grains and beans. They contain chemicals called lectins that can cause the immune system to respond with weight gain, joint pain and digestion issues. Stick to one serving a day and up your vegetable intake.
Get onto Omegas: Having too little omega-3 oil (found primarily in oily fish and certain algae products) and too much omega-6 oil (in cheap oils and processed foods) can exacerbate inflammatory conditions, and also make weight gain loss difficult. Take 2,000 to 4,000mg daily to get your omega-3 levels up. Try Nature's Best Fish Oil 1100mg, £14.50 for 180 (naturesbest.co.uk).
Celebrity news, beauty, fashion advice, and fascinating features, delivered straight to your inbox!
The leading destination for fashion, beauty, shopping and finger-on-the-pulse views on the latest issues. Marie Claire's travel content helps you delight in discovering new destinations around the globe, offering a unique – and sometimes unchartered – travel experience. From new hotel openings to the destinations tipped to take over our travel calendars, this iconic name has it covered.