'Put aside your fears and just go': why every woman should read this travel memoir
From lone rider to feminist icon: how Elspeth Beard's round-the-world adventure inspired women across the world to get on their bikes…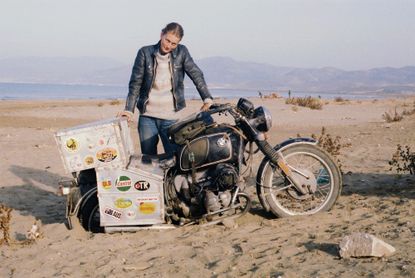 From lone rider to feminist icon: how Elspeth Beard's round-the-world adventure inspired women across the world to get on their bikes…
In 1982, aged just 23, Elspeth Beard set off on a 35,000-mile solo adventure with only her BMW motorbike, limited savings and a steely determination to prove herself. When she returned to London two years later, having ridden through countries ravaged by war, witnessed civil uprisings and survived brutal accidents, she became the first British woman to motorcycle around the world. Now an award-winning architect and author of her memoir Lone Rider, Elspeth tells Nicola Moyne about the trip that changed her life – and inspired thousands of women to embark on their own intrepid adventures
'I first rode a motorbike when I was sixteen; a friend was taking his Husqvarna down to Salisbury Plain and asked me along. I can't say I was instantly hooked but in 1979 I bought a second hand 1974 BMW R60/6 with about 30,000 miles on the clock. It gave me an immense sense of freedom and over the next couple of years I gradually travelled further afield. My first trip was a tour of Scotland, then Ireland, finally progressing to a two-month trip around Europe in the summer of 1980.
'The following summer I persuaded my brother, who had been picking apples in New Zealand, to meet me in Los Angeles where we bought an old BMW R75/5 and rode together across to Detroit. All these trips gradually built up my confidence, so when I got back, I bought a Haynes manual and set about stripping down parts of the engine to get my bike ready for a bigger trip across the globe. It was already eight years old and had done 45,000 miles so I replaced all the cables, bought a new battery, changed all the oils and put new tires on. I also took the cylinder heads off to fit an extra base gasket in order to lower the compression. I didn't really know what I was doing but I had been told by a friendly mechanic at the BMW shop that this would be a good idea!
'My luggage consisted of my "throw over" panniers, a tank bag and a nylon bag I just strapped on the back seat. This luggage got me to Sydney were I decided that I needed something more secure as I would be travelling back through third-world countries most of the way home. Aluminium luggage didn't exist then, so I set about making my own, inspired by a local guy who had already built some for himself which had survived riding from England to Australia. They were light, lockable, easily repairable and relatively cheap to make. Perfect! I took an old [1973] full-face Bell helmet, my Lewis Leathers leather jacket and boots and a pair Belstaff oiled cotton over trousers. I wore the same gear for two years.
'Travelling through Baluchistan and Iran was probably the scariest part the trip. The Russians had recently invaded Afghanistan many Afghanis had escaped over the border into Baluchistan, the western province of Pakistan. They were all wandering around openly carrying rifles and had daggers tucked into their belts, which made me feel very uneasy. From Baluchistan I crossed into Iran, which at the time was at war with Iraq so there were tanks and soldiers everywhere. But I never for one second regretted being there – I was on a mission and absolutely determined to complete the journey no matter what. Of course I had moments where I had to push myself to carry on, especially after an accident or falling ill, but I always managed to pick myself up.
'Travelling through northern Thailand, Nepal and Ladakh was a joy – as well as the beautiful mountain scenery the people were always so friendly and welcoming, but I was constantly the focus of attention wherever I went in India. Every time I stopped, people would soon surround me. They had never seen a motorbike before – let alone a woman riding one!
'The way people treated me in different countries varied enormously. In America, I was often treated as if I was a dirty, greasy biker who meant "trouble"; they wouldn't serve me in some petrol stations until I took my helmet off and they realised I was female. The Australian outback was probably one of the most inhospitable places I travelled through – arriving at a roadhouse, it would fall silent as I entered the room back then. In contrast, South East Asia and other less developed countries couldn't have been more welcoming. I found the people incredibly friendly, kind and helpful. The last leg of my journey was through Europe and it struck me that people in poorer countries appeared to be happier, even though they had very little.
'After returning home at the end of 1984, I found readjusting extremely difficult. It wasn't easy to return after such an epic adventure. Living life on the open road had been so intense; I had lived every minute of every day for over two years. No one wanted to hear about my journey or understood what I had experienced, which made me feel very lonely and isolated. I returned to college and finished my architecture degree, but I kept myself to myself. Then, in October 1988 a friend told me about a 130-foot high derelict Victorian water tower for sale. The moment I saw the tower I knew I had to have it and I bought it without a moment's hesitation. The next seven years were spent restoring and converting the tower into my home in Surrey, which I still live in today.
'I've never really stopped travelling, though. When I got back in 1984 I went back to university to finish my architecture studies, but managed a trip to Kenya and spent three months in North Sumatra studying the Batak houses as part of my dissertation. I have travelled around Peru by motorbike and Bolivia and Chile, I spent six months in South Africa, Namibia and Botswana, and returned to Australia in 1994 to drive more than 30,000 miles around the country. I have visited Tibet twice (once on foot), and in 1997, I rode a motorbike from Kathmandu to Lhasa. In 2003 I travelled around the world again as a manager of the World Challenge, which involved taking 23 motorcyclists around the world in three months visiting many of the countries I travelled through on my trip. In 2017, I was then invited to join 11 other women riding motorbikes through northern Pakistan, to help empower Pakistani women and teach them to ride motorbikes. It was an incredible experience.
'Travel helps us to understand other cultures and not just rely on what the media tells us. It's easy to be afraid of things you don't understand – that's why it's really important that people go and find out for themselves. Those two years on the road completely changed my life and made me the person I am today. They gave me the confidence to take on anything life throws at me without any fear. The truth is, you will always be able to come up with reasons why the time isn't right. Put aside your fears and just go.'
Lone Rider by Elspeth Beard is available to buy now (14.99; Michael O'Mara Books) at mombooks.com
Celebrity news, beauty, fashion advice, and fascinating features, delivered straight to your inbox!