This is what the future of your social life looks like
Menu-less bars and a wine takeaway service - experts have predicted the future of your social life and it looks awesome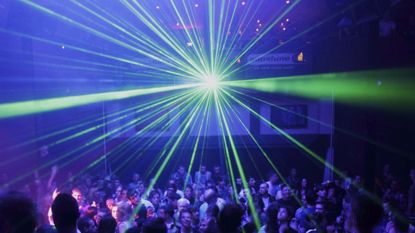 (Image credit: Rex)
Menu-less bars and a wine takeaway service - experts have predicted the future of your social life and it looks awesome
Forget pop-up gin bars and stay-at-home supper clubs, a new study has revealed what the future of your social life will look like. And we want in.
Gimmicky cocktails are out, and bespoke dining experiences are in. Elsewhere, the humble night in just got a serious upgrade (umm, wine takeaway service, anyone?) and VR will make it possible for you to have a big night out from the comfort of your own sofa. Literally. The. Dream.
So if you're wondering what the future of your social life is going to look like this year, Zoe Lazarus, Global Future and Culture Planning Director at Diageo has looked ahead and here's what she predicts:
Entertaining with tech
Entertaining at home is becoming increasingly defined and enhanced by technology. In the US and UK, Amazon Echo gives us the first taste of a voice-controlled future, with capabilities that include playing music, controlling heating and lighting, ordering takeaways and taxis. And now digital whisky-tasting is A Thing too. The Johnnie Walker digital mentorship program (available on mobile or Amazon Echo devices) brings to life the whisky's heritage and blending expertise through a variety of unique interactive experiences, heralding a new era of whisky education so you can learn as you sip from home.
Alcohol to order
The proliferation of on-demand experiences and services is shaking things up and people can increasingly entertain at home with more and more products and experiences available at the touch of a button. In the UK, thebar.com has launched as a store on Deliveroo to allow your favourite spirits to be delivered to your door. That late-night dash to the off-licence for top-ups could become a thing of the past.
The rise of VR
Virtual Reality (VR) is expected to become more prevalent with the number of active VR users forecast to reach 171 million by 2018, making immersive experiences accessible to anyone, anytime. The Void (vision of infinite dimensions) aims to take your Saturday night on the sofa anywhere in the world that you want to go, by layering digital worlds over physical interactive environments. It's like the cinema-meets-Quasar, except you're the star of the movie. The company has already launched a Ghostbusters experience in New york, where participants wear VR headsets as the navigate a number of Ghostbuster-themed rooms and their fellow 'players' pop up as avatars.
Gluten-free gin, anyone?
Gluten and dairy free alcohol options will become more common. Last year, Baileys fans in the US and Canada had the chance to try Baileys Almande, a light, fresh, gluten and dairy-free version of the original, with the same calorie count as a vodka and soda (38 calories per 15ml serve). Elsewhere, Pinkster gin is a great call for coeliacs, dry with a touch of fruitiness and no gluten.
Sensory socialising
Sensory science is on the rise and people now expect a side order of surprise, immersion and sensory delight with their drinks when they're out. The Singleton Sensorium saw participants enter different 'worlds' noting down how different sounds, smells and visuals in each space enhanced the flavours of The Singleton single malt whisky. This was the world's first multi-sensory science experience into the effect of environment on the taste of whisky and gives a glimpse of how bars of the future might be designed.
Emotional cocktails
A different type of cocktail is emerging, The Artesian Bar at The Langham in London is just one of the bars creating emotional cocktails, where bartenders tap into customers' personal experiences by creating cocktails that capture their mood and essence in a glass. Experience, not 'things' is the way forward, as 78% of millennials say they would rather spend money on a desirable experience than buy coveted goods. At the Guinness Open Gate Brewery in Dublin, beer enthusiasts have the chance to meet the brewers in their place of work, discuss the brewing process happening around them and sample recently launched innovations from around the world. They can also try early, small-batch exclusive versions of experimental brews and vote on which Guinness products they'd like to see on the shelves.
Menu-less bars
There's a new type of bar on the rise. The Tailor Bar in China has no menu - and it's not the only one. Hunan in London is a Chinese restaurant where you tell waiters how spicy you like your food and they serve what they think you'll like. Pip's Dish is another London haunt where there's no menu - go along with an open mind and they'll serve you whatever they're cooking on the day.
Immersive comes home
Services such as EatWith lets foodies open their homes and host supper clubs through a network of underground eating venues. This thriving peer-to-peer scene is not limited to food and drink, though. Sites such as Fanswell connect music lovers and performers, enabling people to invite their favourite artists to perform in the comfort of their living room.
Celebrity news, beauty, fashion advice, and fascinating features, delivered straight to your inbox!