Amy Bourbeau: "I wish we could change the system so that women don't have to work so hard to get to the same place as men"
One of the first B Corp consultants breaks down how she launched her own business, the importance of positive change and her secrets to success.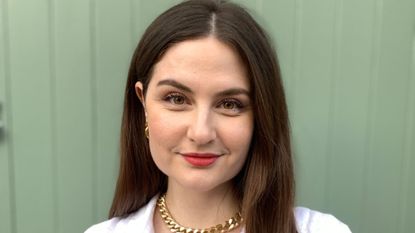 (Image credit: Seismic)
If you're yet to hear the name Amy Bourbeau, let us introduce you. A change-maker paving the way in helping businesses achieve - and maintain - B Corp status, she first made a name for herself as the first ever B Corp consultant.
Now, she's turned her passion for making positive change into a thriving business. That's right - in 2021 and after five years as a freelance B Corp consultant, she joined forces with co-founders Andy Schmidt and Paul Lewis to launch Seismic, a company dedicated to helping businesses work more sustainably.
The three connected on their passion for making positive change for both people and planet. And while they may only be in their third year of business, Seismic are already known as trailblazers in the industry. For two years running, they've ranked as one of the Top 100 companies for employees and earned themselves clients among the likes of Patagonia and Innocent Drinks.
Here at Marie Claire UK, sustainability is at the heart of everything we do and we've been delighted to work with Seismic for our 2023 iteration of our annual Sustainability Awards. We've been looking forward to sitting down with Bourbeau ever since. Below, she discusses the ins and outs of being a female founder and how she made sustainability a business, too.
So, take us back to the beginning of Seismic...
I decided to launch Seismic with my co-founders, Paul and Andy, during lockdown in 2020. Andy and I had been working together for a number of years and knew each other well, but Paul and I had only met online, so it was very interesting to leap into starting a business with somebody you've never met in person.
Luckily, it worked, and we put a lot of effort and energy upfront into things like our values, our vision as a company, and our behaviours.
We wanted to make sure that we keep the practice called "organisational health" at the heart of the business. There was an agreement upfront that we had a "no assholes" policy. We wanted to make something that we all truly believed in and were emotionally invested in, so that it would grow in the right way. We put a lot of effort into that foundational piece.
How did you all meet?
I met Andy in 2016 when I trained him on a course called B Leaders, a programme from B Lab (the organisation running the B Corp movement).
B Lab offers the B Leaders programme, which I helped to create and deliver in the UK - it trains people on how to be B Corp consultants. I was delivering the course, and it was the first cohort in the UK, and Andy was one of the participants. He's just a natural connector and kind of seizes every opportunity. He reached out after the course and suggested that we work together. So we collaborated on a project helping the City of London Corporation understand and identify their strengths and weaknesses across their social and environmental performance, and we gave them recommendations.
We got on right away and found that we worked really well together, so we just kept doing that. Our next client was Innocent Drinks, who we still work with to this day. I was working as a freelance B Corp Consultant independently, and Andy was running a small consultancy, which was a collection of freelancers. So, I would do projects here and there with him and valued my independence, but over the years, I started doing more and more together with him.
Andy and Paul had met through a public speaking course. Then, during the lockdown, Andy heard that Paul had left his job (he'd led and run other environmental consultancies). And again, Andy being the connector that he is, was like, this guy's great and now he's got availability - let's bring him in and do something. So Paul came in to do a limited project with us to help us figure out how we could grow and be a bit more strategic as a consultancy.
As the three of us started to get to know each other more, there was just a realisation that we could and should do something here - our values, ambition and drive were all really aligned. We all realised that we had shared desires and goals. So we decided to start Seismic.
What inspired you, and how did the idea come about?
All three of us are very passionate about and committed to working in the world of social and environmental impact and sustainability. I don't think any of us would want to do anything other than that. But we also love business. We genuinely want to impact a shift in how business is done, because business is a huge contributor to the problems that we're experiencing globally, both socially and environmentally.
We recognise that to make a genuine impact, to actually try and shift the needle, you need more than one, two or three people. So, we wanted to do something that could grow beyond us and actually create more of a genuine change.
I felt like I wanted to launch a company that went beyond what any of our single skill sets were. My specialism is in B Corp, the framework and everything that entails, but I wanted to be able to give clients an answer when they'd ask, "can you help us with carbon?" Or "can you help us do a materiality assessment?". I as one person can't do everything, but I felt we should be able to do it as a business collectively.
We had this shared desire to be able to genuinely service our clients in a big and meaningful way.
How did you turn it into a business?
It was important to us to start with those values and beliefs and that kind of framework. We thought about the challenges that we were going to face and how we were going to tackle them as we came to it. Then, we looked at the skills that the three of us had, where our interests and capacity lay within us, and used that to figure out what our roles and responsibilities would be.
Not to mention, what our target market and initial offering would be, as well as services. Andy and I, as independent consultants, had a client base, so we weren't starting from zero.
We then figured out our brand, which took a long time - especially figuring out what we were going to call ourselves. But when we finally landed on Seismic, we knew that was it.
Did you always want to work in sustainability?
It sounds corny, but I always knew that I wanted to do something that made a positive difference. I just didn't know exactly what that was. One summer while I was at university, I helped a textiles and printing manufacturing company to get organic certification and I really enjoyed that process. I remember my boss at the time telling me, "You could do this as a consultant, and people would pay like £100 a day or an hour", and my mind was blown.
I did International Business and Media Communications and Culture at university, and in one of my classes, I learned about CSR corporate social responsibility. It's now an outdated term, but the concept of businesses having a responsibility to people and the planet as well as profit just kind of clicked for me. It was great because I'd always been interested in business but wanted that positive element. So I wrote a little note to myself in my mirror: "Career in CSR?". Then, I was very lucky to get offered an internship at the Staffordshire Chambers of Commerce, which is near to where I studied, and that was amazing. I learned so much in that internship, which then evolved into a full-time role. That was where I learned about B Corp. It's all developed from there.
What do you wish people knew about sustainability and B Corps?
I wish that people realised how accessible it is. I think sometimes there's an assumption that it's too hard or that it's only for companies in the consumer-facing sector. Small companies think it's only for big companies, and big companies can think it's only for small companies. But it's actually for everybody. You can do it, and it will make you a better business - and I wish people would just dive into it a little bit more.
With sustainability in general, I wish companies realised that by not engaging at all, or by engaging but not in a very meaningful way, that they're screwing over a future version of themselves. Apart from it being the right thing to do, it's a business risk to pretend people on the planet don't matter or aren't very much at risk. Whether your supply chain will start drying up, or your talent will leave you or all of these things, it makes business sense for you to engage and take action.
Why is it important for businesses to have B Corp certification?
There are so many benefits to it. There's the attraction and retention of employees. There have actually been stats to show that B Corp companies who engage and have genuine ESG strategies and practices not only attract better quality talent, but their employees stay with them for longer.
Plus it attracts investors and helps businesses internally as well. B Corp is something that can and should feed into your overall sustainability and corporate strategy. It helps you to get your house in order, it helps you to be accountable because you have to recertify every three years, and it encourages continuous improvement so that you can make being responsible in business part of your day to day.
What is the biggest sacrifice you have made?
I guess I was pretty lucky. I wouldn't say that I've had to make any major sacrifices, but a big change was when I shifted from being freelance into starting a business. There are obviously so many amazing things that have come from that and I would do it again a million times over, but at the time, what I felt I was sacrificing was my flexibility and freedom.
Being able to pretty much do what I wanted when I wanted in regards to my career and how I plan my time. Running a business is a huge commitment, so I don't have that same flexibility.
What is the biggest mistake you've made?
I make mistakes all the time, but I try not to dwell on them. I learn from them, of course, but I don't let them hold too much headspace.
What is the best advice you've received?
Earlier on in the business, I mistakenly believed that I needed to be on top of everything. I told one of my co-founders that I wanted to do a finance refresher course to be able to contribute to the finance meetings. He challenged me and asked if I really needed to, because we have a team that does that - we have experts to do that and enjoy doing that. He asked me, "Is that something you enjoy? And do you want it to be a part of your role?" And I was like, "No".
His advice was, instead of taking lots of your energy, time and resources to work on something that you don't know how to do and to get OK at it. I could actually take that time and energy resource and channel it into something that I love and want to do more of. Something that I may be good at but could become great at, that would be way more enjoyable and beneficial to me and my development, and also way better for the business.
It was actually really freeing advice to just think about prioritising your personal development and growth, and to not try and be great at everything. To just accept that some things aren't going to be my forte and that's OK, as long as there's somebody else that can handle that.
Have you ever felt discriminated against as a female founder?
I wouldn't say I've felt discriminated against as a female founder. Although I'm a woman, I'm still white, educated, able to afford to live in a major city and all of these things. I still obviously have a lot of privileges so I haven't faced that many barriers.
What I have observed are micro-discriminations. For example, sometimes when people meet me at events they assume that I'm a junior member of the team, and they ask me when I joined Seismic. Another time, I was introduced as Amy from Seismic, and the guy was like, "Oh, I just met your boss". I had to explain that no, he's my co-founder, not my boss.
How can you achieve the right balance between work and personal life?
I don't know how to do it. I just try to be gentle with myself. Sometimes, I'm going to have days where I'm working until really late at night, and that's OK, because I'm so passionate about what I do. I'm happy, and we're enjoying it - I'm building something, and it's OK. And then, other times, I don't.
I still manage to have quite a good balance and fit in social things and relaxation time. I don't know how - I guess it comes down to an attitude of being able to walk away without everything on your to-do list being ticked off. Being able to say, "Listen, I'm going to do that next week", and being OK with it. It can sometimes be hard, but it's a necessity because everything is never going to be done. So, if you don't want to turn yourself inside out, you just have to do it.
What do you refuse to compromise on?
There are a few things that were really important to me as an independent consultant, and the earlier days of how Andy and I worked together. Apart from having the expertise, I think one of the reasons why people enjoyed working with us and why we did well was a very human element of how we engage with our clients.
Engaging with our clients as people, being invested in the process and being professional, of course, but also just having a relationship and being human and real. So that element of quality and care paired with that humaneness as well as real attention to detail, because B Corp can be really tricky. Part of the reason why we've always done well is that we're B Corp geeks. We're really into the details - we're just human first, that's one of our values.
What's been your proudest moment so far?
For Seismic, I'm proud that two out of two years that we've applied for it, we've been recognised as a top 100 employer out of about 13,000 applicants. So that is really amazing because our employees and our team are so important. We have a vision statement that by our fifth birthday party, we will have helped ten million people, and it will have been the best place any of our employees have ever worked. On the impact side of things, it is a non-negotiable.
We also want to be a workplace where our team can learn and grow - to have a good time and feel fulfilled is so important. And so that recognition from the top 100 was great.
How do you celebrate success?
I think for a lot of women, it's a natural instinct to compress things or play it off like it's not a big deal. But actually, just allowing yourself to say thank you, to accept a compliment, to say, "yes, I'm really proud of this" and to not feel like you're bragging or being brash or whatever.
Sometimes, I find that doesn't come naturally. But I try and encourage myself to just celebrate something and say, "Yes, you know what, that is cool, and I'm proud of that". Then, as a business, we try and celebrate often - even the small things. If somebody did a really great job, we will celebrate that in our team chat, and we have a changemaker of the week too, to celebrate that person.
What would you want to change for women?
Being able to accept compliments. I think it comes from the confidence gap that women often have, which is a symptom of the way that society has been run for so many years.
I know so many great women who don't put themselves forward for things or who are asking, "Please, may I be heard", instead of just saying, "This is what I deserve". I wish we could just push through that so that women naturally had the confidence that they deserve to have. The reasoning behind B Corp is to try and change the system. I wish we could change the system so that women don't have to work so hard to get to the same place that men are at.
Celebrity news, beauty, fashion advice, and fascinating features, delivered straight to your inbox!
Dionne Brighton is a writer at Marie Claire UK, specialising in all things shopping, beauty and fashion. Born and raised in North London, she studied Literature at the University of East Anglia before taking the leap into journalism. These days, you can find her testing out the latest TikTok beauty trends or finding out what the next full Moon means.