'I went suddenly blind overnight'
TV producer Vanessa Potter was in perfect health and then one morning, she went suddenly blind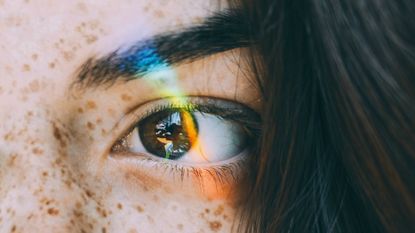 TV producer Vanessa Potter was in perfect health and then one morning, she went suddenly blind
Leaving a food festival with my kids, I kept an eye on my two-year-old son's yellow potty balanced precariously underneath his pram. Moments later, sensing my five-year-old daughter was about to dart away, I grabbed her hand, smiling as her fuchsia-pink hat bobbed along beside me. Although those few seconds are easily forgettable, they are a snapshot of my life at the time. One of the last full-colour memories I have. The following morning, on 1 October 2012, my life changed irrevocably. I had become blind overnight.
Opening my eyes that day, I realised something was very wrong. The air around me seemed to fizz and my mind felt muddy. I knew I needed help. My husband Ed called our GP and I was rushed to hospital, but doctors were baffled. My symptoms were strange and my tests came back as normal, yet I knew that what I was seeing and feeling was anything but. As those first few hours passed, my peripheral vision disappeared, dissolving into nothingness. As I waited for a diagnosis, a numbness took over my limbs, and my fingers and toes felt like they were starting to freeze into lumps of ice. It was like something was inhabiting my body.
At the end of that first day in hospital, I remember grabbing a nurse by her arm and saying, 'You have to help me. I'm losing my sight.' Ed ran down the hospital corridors, pushing my wheelchair himself as I was transferred to neurology. With each minute, I could feel my sight slipping away and my limbs getting heavier. As a TV producer, I was used to running large TV productions and being in charge – now I was helpless.
My mum and best friend came to the ward, swapping shifts with Ed, and a childcare rota was arranged. Doctors kept me in for tests, so I had to adapt to various carers who fed me meals and brushed my hair. Three days after being admitted to hospital, I realised the last slither of sight had just disappeared and I was now completely blind.
How does somebody go suddenly blind?
Doctors named me 'the mystery patient', a medical enigma that they tried to crack. When the breakthrough came, I was diagnosed with a rare autoimmune condition called NMOSD (neuromyelitis optica spectrum disorder). It happens when the immune system reacts abnormally, attacking the body's tissues and organs, and commonly causes sight loss and muscle weakness. It wasn't clear if or when I might get my sight back again. Since my first day in hospital, I had refused to let my children visit, because I couldn't bear the idea of them seeing me with my wild staring eyes, yet I longed to be with them.
The hospital kept me in for two weeks, before finally letting me go home. I was legally blind, but there had been a small breakthrough. I had opened my eyes one morning to a grey mist, and a small slither of light; there was hope. I limped into my house that evening, touching the walls to guide my way, and when I felt my children's limbs wrap around me, all the grief flooded out and I cried for hours. But at least I was back with my family.
Over the coming weeks, I waited for a miracle to happen. My five-year-old daughter became my eyes, feeding me ice cream and drawing me get-well cards with psychedelic colours in the hope that I'd see them. Each day, I might notice another minuscule detail, such as a line on the floor.
Even basic tasks were beyond me, but I was determined to stay as independent as I could. I had to learn to navigate my dark world in other ways, using my memory to do things like work the washing machine. I started walking using a stick, shuffling a few more steps every day and slowly building my confidence.
The nerves in my eyes had been damaged, but the nerves in my body were affected too, meaning I couldn't use my legs. My hands and feet constantly felt like they were in cold concrete blocks. It was both disorientating and frustrating, but also isolating; my condition was so rare I never got to talk to anyone else who had experienced it.
Ed took on the lion's share of the cooking, cleaning and childcare, while also holding down a job. It was a highly stressful time, because nobody knew when or if I'd get better. I tried to be positive, but I desperately missed my old life. It was this strong desire to do something that lead me to documenting my journey. At first, I asked my family to take notes about my experiences. Then, I bought a Dictaphone. One of the most frightening aspects was dealing with the uncertainty, but writing and meditating helped me cope.
It was a year until my sight returned to what it is today, which isn't perfect. Colour took months to re-emerge, exploding back into my life with blues that spat like a firework. I set up a blog to write about the mental unease I was going through and was thrilled when it was spotted by a publisher, who offered me a book deal. Patient H69 was born. Then came an invitation to do a TED Talk.
I now revel in the sight I have. I get lost a lot and make mistakes – the other day, I gave my kids mouldy croissants and my daughter jumped in to stop me. It's moments like this that make me wonder if this experience will make her a more compassionate person. We have all learned to look after each other more.
One of the by-products of having a serious illness is that you press a pause button. I spent that time considering my perception of the world – how I interacted with it and what mattered to me. My experience didn't close doors for me, it opened them, but I'm acutely aware every day just how lucky I am compared to others.
Patient H69: The Story Of My Second Sight by Vanessa Potter (£16.99, Bloomsbury Sigma) is now available to purchase. For more details, visit Patienth69.com.
Celebrity news, beauty, fashion advice, and fascinating features, delivered straight to your inbox!
The leading destination for fashion, beauty, shopping and finger-on-the-pulse views on the latest issues. Marie Claire's travel content helps you delight in discovering new destinations around the globe, offering a unique – and sometimes unchartered – travel experience. From new hotel openings to the destinations tipped to take over our travel calendars, this iconic name has it covered.