Meet the teen bloggers starting a sex revolution
Disillusioned by the limited sex education offered in schools and the misogyny of porn, a new wave of vloggers are taking matters into their own hands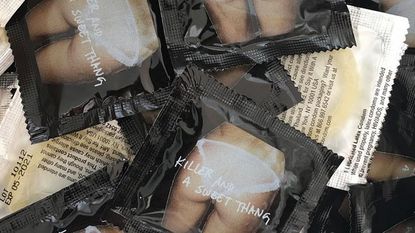 Disillusioned by the limited sex education offered in schools and the misogyny of porn, a new wave of vloggers are taking matters into their own hands
Words by Rebecca Newman
Laci Green's Guide To Orgasm video on YouTube has, to date, 1.5 million views. It's a rapid-fire, illustrated romp through the female anatomy and the sexual-response cycle, with pauses to suggest what feels good – and bad. Green is close up to the screen, all geek-chic glasses, tumbling auburn hair and naughty twinkle, talking like your best friend, but ending on a serious note: you shouldn't stress about it or it won't happen, and 'sex should not hurt'.
Green, a sex education blogger, is one of a new wave of young female trailblazers using social media to shake up the way the subject is delivered to an eager audience of women aged between 15 and 30. The 26-year-old sexual rights activist first set up a blog as a teenager, tackling everything from consent and gender identity to achieving satisfying orgasms, because she was incensed by the misogyny in the strict Mormon community in which she lived in Utah. 'I realised that the only sex education most teenagers were getting was the strict "no sex before marriage" messages delivered by the church, or the misogyny conveyed by porn, neither of which were based on reality,' she says. Her YouTube channel took off while she was studying law and human sexuality at the University of California Berkeley. Five years on, Green has 1.5 million subscribers.
https://youtu.be/AepqPbvpsvo
It's no surprise that such channels have stepped up to fill the gap online, particularly in America where teachers are encouraged to err on the fear-mongering side when it comes to sex education – and also exclude any reference to LGBT issues. Green, who is equipped with a bushel of sex-counselling qualifications, explains the appeal: 'Now that online video is having a huge boom, girls like me are trying to make real, empowering education a part of that space.'
Green is joined by Eileen Kelly, 20, who was born in San Francisco, but now lives in Manhattan. Kelly grew up with a single father and attended a Catholic school that offered little in terms of sex education, aside from the message of abstinence. 'Sexually, I was really lost in high school,' she recalls. 'Many of my friends ended up having abortions that could have been avoided, because we were lacking the information we needed to make informed decisions about our bodies.' It was this absence of knowledge that motivated Kelly, at the age of 16, to set up a Tumblr account where she and her peers could compare notes and ask one another for advice. It discussed 'boy issues, break-ups and sex – anything people couldn't talk about with their parents.' Over time, the Tumblr account attracted around 300,000 followers.
In the UK, British vlogger Hannah Witton, 24, has quickly garnered the same success with her own sex-ed channel, where her focus is on how to ask for and get better sex, and understand your hormones. Her Hormone Diaries about life on the Pill and its side effects gained around 170,000 hits. 'It's incredible that in 2017 there is still so little informative sex education on the curriculum,' says Witton. 'Teachers are not trained in sex education, and if you do get one willing to discuss it, they are more likely to focus on telling you how not to get pregnant than on the realities of growing up as a woman in a highly sexualised environment. It's no surprise that there are real concerns among my followers about finding their sexual and gender identity – being bi, or trans or gender fluid.'
https://youtu.be/5jx6sSpis9g
Witton sees part of her job as countering the negative messages women are bombarded with online. 'Performance anxiety is a huge problem as a result of porn culture,' she says. 'A lot of people suffer in silence. They think they are the only ones who look or feel a certain way. My channel is all about shouting that they are fine and normal.'
Green's content, like that of other 'sex-ed' bloggers, is also sex-positive, with a deeply feminist message. It's clean, clear, upbeat and inclusive, but also unapologetic about including graphic details. Some videos like Wanna Have Sex?, about the importance of consent, had 3 million views and begin with the warm, sisterly intro of 'Hi babes…' Going on to spell out that sexual coercion is often subtle: 'pressure, alcohol… pushing yourself on someone after they've said no'. However, the video is anything but dry – rather it's all fast edits and high energy, with Snapchat-style scrawl across the screen to hammer home key points.
Part of the attraction of these girls to their peers is undoubtedly the slick video presentation. Kelly engages with her followers through a combination of Tumblr and Instagram as @killerandasweetthang. Photos are very much her medium. She paints a life rich with cool friends, and decorates it with endless pictures of her scantily clad behind. At first glance, it could be seen as controversial – hyper-sexualised even – but this is a girl who knows how to attract a following through visuals in order to deliver a serious message. 'I'm using my image for good,' says the blogger, who also runs a public information website and forum, Birds & Bees. 'My goal is to pass on important advice and spread something positive: body acceptance, feminism and equality, as it applies to my world and these girls…'
Kelly's site has forums on topics ranging from Weird Vagina Noises to Cumming For Girls. It also has its own Instagram feed (@birds.bees) with daily no-holds-barred information. One image is of a hand cupping menstrual blood with a caption explaining that period blood is sterile and that sex can help relieve period cramps. In another, a finger with a snake wrapped around it twice is used to illustrate the fact that there are two anal sphincters and both need to be relaxed before anal sex can be comfortable. 'My main aim is to build people's self-esteem, create a safe place online for them to be themselves and share without being attacked like I was.' Because being shot down for her approach is something that Kelly, like many of the other girls, is familiar with. Her full-on method has been criticised by mainstream media and trolls, while one case of cyber-bullying was so extreme that the police got involved and her Tumblr account was deleted.
In a recent article from The New York Times titled, 'The Sex-Ed Queens of YouTube Don't Need a PhD', many peer-to-peer sex educators were slated for their 'shameless exuberance [and] amateurism', particularly compared to the US medical sexperts (Dr Ruth or Dr Drew) from yesteryear. But maybe critics miss the point. The amateurism is the main draw for a generation raised on YouTube tutorials. These girls are relateable and, crucially, also meticulous in their linking of tutorials and videos to appropriate medical centres and charities, where viewers can go for information and support.
Shannon Boodram, a qualified sex counsellor, clinical sexologist and author, whose YouTube channel Shan Boody has had around 9 million hits, is adamant that the vloggers today are under even more pressure than in the past to make sure their messages are responsible, inclusive and factually correct. 'The tiniest mistake is instantly picked up,' she says. Boodram agrees that the exuberance is a huge part of the point. 'If it's only sexy and fun, you lose the education part. But if it's not sexy and fun, you lose the audience.' Boodram's videos are particularly confessional in tone. A popular one is My STD Nightmare, and her content is littered with real stories of drunken mishaps. And yet, with her Bambi lashes, fabulous curly hair and amazing midriff, Boodram – aka Boody – presents an enviable, aspirational figure. She feels this is key to getting her message across. 'I am a woman of colour. I think it is important that people can look to YouTube and see faces that aren't only white putting out positive messages of sexual empowerment.'
https://youtu.be/64lYLE5OHRM
Relateable educators like Boodram are undoubtedly playing a valuable role, but as many countries move towards being more restrictive of reproductive rights, many advances made by women like her and organisations such as Planned Parenthood Federation of America (PPFA) may be threatened. The PPFA reaches around 3 billion people worldwide, but since his election President Donald Trump has vowed to cut its funding, restricting sex education even further. Dr Leslie Kantor, vice president of education at PPFA says, 'Under [Barack] Obama, money was shifted to evidence-based approaches to pregnancy prevention, with very good medical research, and we are concerned there will be a push backwards. We are pleased that there are influencers reaching out to people in the digital environment.' In the UK, too, contraception services are under threat with a third of GPs admitting they do not have the adequate time and resources to deliver in-depth consultations with patients. 'Hopefully by utilising the platforms available to them, sex-ed vloggers are using their communication skills to advance people's understanding of a topic that is under-serviced by traditional teaching methods, with life-altering, positive impact,' says Dr Kantor.
Celebrity news, beauty, fashion advice, and fascinating features, delivered straight to your inbox!
The leading destination for fashion, beauty, shopping and finger-on-the-pulse views on the latest issues. Marie Claire's travel content helps you delight in discovering new destinations around the globe, offering a unique – and sometimes unchartered – travel experience. From new hotel openings to the destinations tipped to take over our travel calendars, this iconic name has it covered.