Is flirting cheating? 6 ways you might not realise you're being unfaithful
More 'we need to talk' fodder to add to the pile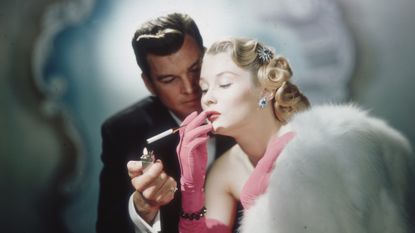 (Image credit: Getty Images)
More 'we need to talk' fodder to add to the pile
Queue up some old school Rihanna, we're going to talk about infidelity. Even though there's some cut and dry signs that somebody is cheating on you (i.e. finding someone else in your bed is probably a good indicator), there's also a few ways you might be actually be the culprit without even realising it.
From being a little too keen on social media to slipping off to a strip club with the squad, here's some things you should probably be aware about - before it causes problems for your relationship.
Social media and relationships
There's a reason that the phrase 'it all goes down in the DMs' has become so notorious. It's easier than ever to see into other people's lives and connect with people on social media platforms like Instagram, Twitter, Facebook and Snapchat. Sometimes it'll take more subtle forms such as frequently following and liking attractive people on Instagram, whereas others will go the full mile and start up an online relationship via inbox.
Megan Crehan of Sex and London City said, 'Ask yourself this; if your partner was in this situation, what would you consider cheating? Whatever answer you come to, don't do it! Remember that in this digital world, cheating isn't always kissing, touching or having sex. If you're deleting texts or social media messages so your partner won't see, then you're probably already there.'
Dating and relationship coach Jo Barnett also said, 'If you message someone directly, that's as good as phoning or texting someone and showing an interest. The problem with social media is that people can get away with it easier and the boundaries are a bit more grey. Constantly commenting on someones pictures or status is not directly cheating, but it does seem inappropriate if you are in a secure relationship.'
Having a dating account
So story time: I've been on Tinder for a while and met a couple of my exes through it. One of the most awkward conversations I've ever had was when a boyfriend's mate told him he had found my dating profile, leading to a tense confrontation about my faithfulness.
It also led to the slightly embarrassing revelation that I'd drunkenly downloaded the app again to nostalgically read our very first conversation with one another (spoiler: it was kind of boring). Even though I hadn't actually been swiping, I still remember how hurt and insecure just having the app on my phone made him feel. We ended up sitting down and deleted it together.
In any case, your active dating profiles on platforms like Tinder, Bumble, Grindr need to go. A survey commissioned by divorce attorneys First4Lawyers found that over half of Brits agreed that having a Tinder account while in a relationship was cheating. Whether you're just window shopping or actually chatting up people, you're in a virtual space aimed at hooking up and dating. Your head isn't with your partner, you're dreaming of the what ifs. And given how easy it is to reach out to a stranger in the apps, you could be on a slippery slope...
We also chatted with Sigurd Vedal, the CEO of the dating app Victoria Milan targeted at people looking to have an extramarital affair. We asked him why people use dating apps to cheat and he explained, 'People who look for extramarital affairs or dalliances aren't necessarily on a mission to self sabotage their marriages or families. The love and respect are still there, but the sexual desire and passion are long gone. Rather than allowing feelings of rejection or frustration to build up and destroy a relationship, people use dating apps to find likeminded people they can have intimate moments with.'
Flirting at work
Sure, we all have friends at the office that make those grim Mondays a little brighter - but sometimes you can take things too far with your work friends. A useful rule of thumb is to think about whether your partner would feel uncomfortable if they were in the same room as you.
Brits felt really strongly about this one, with 75% of people surveyed for First4Lawyers saying that it was totally unacceptable. Over a tenth said they would break up or go as far as to divorce their partner if they found out about it. However, a recent survey also revealed that two thirds of people hide their work spouse from their other halves - regardless of whether they're doing something shady or not.
Dating coach James Preece said, 'If you are single and your co-worker is happy with the flirting, then that's fine as long as nobody else is uncomfortable with it. However, if you are in a relationship, then you should definitely tone things down. People do this just for a little attention and for an ego boost. Flirting is always a sexual thing as it's often just about teasing and playfulness, but it can be taken the wrong way. How would they feel if their partner was watching what they are up to?
Megan also pointed out that sometimes it's difficult setting up those boundaries: 'Flirty banter is common in the workplace; you spend eight hours a day together! And it can be innocent. Nothing's happening, no message are being exchanged, there's no physical contact and feelings aren't growing. But there's a line that's tricky to find. Think about your partner at their place of work and what you'd be uncomfortable with. Work is work, and we're not saying you can't have a laugh, but keep it professional for the good of your relationship and career.'
Going to a strip club
Moviestore/REX/Shutterstock
While heading to a strip club might be a popular choice for a lads' (or maybe even some ladies') nights out, people really cracked down hard on attached men and women going along. In fact, according to the First4Lawyers research 84% of Brits said that it was totally unacceptable for their partners to frequent the establishments and would absolutely view it as cheating.
We're not completely sold on the fact that watching pornography is a form of infidelity - in fact, it might even give you and your SO a few ideas - but we can see why paying a stripper for a lap dance could be totally different. It takes an innocent fantasy into the physical realm and may even hurt your partner's feelings, giving them the impression that they somehow aren't enough for you.
However, I have met people who have made this work - but only because they've been completely transparent with one another about when they're heading out, who they're with and where they're going to be. It all depends on your relationship and you know your partner best. If you think they're the part of the 84% who will expect you to take a hard pass on a raunchy night with the squad, then it might be best to stay home.
Jo Barnett said, 'Going to a strip club is a very personal thing, something that needs to be discussed with your partner. Everyone will have a different idea of just how acceptable this is in a relationship. Also there are levels and situations, for example if you are away on a stag do and with the boys, is there any harm in going along with the crowd to observe? If there is more taking place in the club than just observing then it could be considered cheating.'
Talking to an ex
If you're one of the few who's managed to move on from a past relationship and stay friends with your ex, then messaging one another could spell trouble for your future relationships. While some significant others may not mind if your ex is still a part of your life, nearly half of people (48%) involved in the First4Lawyers survey thought that texting an ex was a deal breaker. Even if you're single, opening up that can of worms is always an emotional minefield. That only doubles when you're in a relationship with somebody else.
James Preece said, 'This really depends on exactly what and why you are texting. Some people are happy to remain friends with their ex and this is fine if you regularly have to see each other. The problem comes when you are focusing more on your ex than your partner. Conversations about problems you are having or about your partner are no business of your ex. If you must stay in touch be open and honest about it.'
Sometimes, talking to your ex is totally unavoidable though. Megan said, 'Of course there are situations where someone will need to talk to their ex - if there's a kid involved, for example - where the new partner has to be an adult and realise it's not about them. But if there's an ex in the picture where feelings may still be involved then that's another story. They're an ex for a reason and need to stay that way - you can't have your cake and eat it too.'
Emotional cheating
We've previously talked about how this is the worst form of cheating and to be honest, we haven't budged on that. Physical cheating is still pretty terrible, but there's something more insidious about the fact that your partner is sharing your heart with a houseguest. While you might not be able to help the fantasies, the deeply intimate conversations, sexual chemistry and flirty back and forths over text with somebody other than your partner don't fly.
According to a 2016 study at Chapman University in California, many people admitted that they'd actually be more hurt if they found out their partner was mentally cheating on them. After quizzing 60,000 people of all sexual orientations, it turns out that 65% of women thought emotional affairs were worse compared to 46% of men.
At the end of the day though, a lot of this boils down to the boundaries you and your partner have set (or don't realise you've set) in your relationship. Jo explained, 'People can be unfaithful without realising it by doing any of the above - if you do something you think you can get away with, it may feel innocent to you. But you have to ask yourself what your partner would say if they knew about it?'
Celebrity news, beauty, fashion advice, and fascinating features, delivered straight to your inbox!
Megan is a freelance journalist who covers entertainment and all things lifestyle, with a particular passion for fashion, beauty, travel and Keanu Reeves stories. She has previously worked on staff for titles including Marie Claire UK, CNN Style and The Evening Standard and has written for titles such as Bustle UK, Wallpaper*, Forbes and Hong Kong Tatler. She splits her time between London and her hometown Hong Kong, where she currently lives with the love of her life - an elderly dog named Poppy - and her husband.