Marie Claire is supported by its audience. When you purchase through links on our site, we may earn commission on some of the items you choose to buy.
Till resignation do us part.
Let's talk about work wives and husbands for a second. They're the people who make working in a tiny office more tolerable and the highlight of your work day, but it turns out that more than two thirds of people keep their close work relationships a secret from their partners.
A study by totaljobs surveyed 4000 employees and employers across the UK to find out how relationships play out in the workplace. It turns out that 65% of Brits have at least one BFF in the office – especially if they're in a larger team – but only 17% of those admitted to having a work spouse.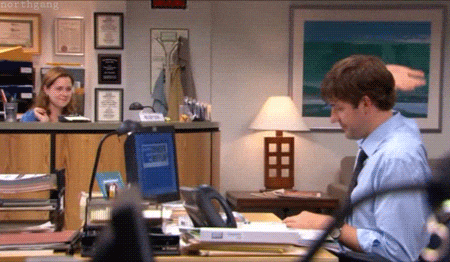 People strayed away from funny business, relegating their spouses to the friend zone by referring to them primarily as 'my buddy' (38%) or 'my colleague' (28%). However while most work spouse relationships may be purely platonic, it turns out that less than half of people have actually introduced their other professional half to their partners in real life. In fact, just 36% of people even knew that their partner's work spouse existed at all.
Many people in a work marriage had taken their relationship beyond the cubicle, with 55% revealing they had spent time with their partners after office hours. Wining and dining made up many of these dates, however only half of work spouses had earned enough of a place in their colleagues' hearts to swing an invitation to a wedding or christening.
It was also revealed that having a partner in crime or close friend at the office massively impacted if their work attitudes were for better or for worse – 60% saying looked forward to the day ahead because of them. In fact, people's ties to their work spouses were so strong that nearly a quarter of employees (23%) would consider following their partners out the door if they quit their job.
Work spouse dangers
While having a go-to person in the office sounds like a great idea, it turns out that having a work bestie isn't the cure all for happiness in the workplace. In fact, half of those with a professional other half were actually dissatisfied with their workplace, whereas people with multiple close friendships in an office were more likely to be happy with their environment (51%).
Communication expert Judi James warned of the dangers of a work marriage, saying, 'Aligning yourself to one 'best friend' in the workplace might increase your feelings of security and comfort but it can cause hell for your colleagues, who could even find your exclusive little double act threatening.'
'By creating your own 'in crowd' of two in the midst of a larger social pack you risk making the others feel like the 'out' crowd. Apart from all those shared jokes and banter and the way you have one another's backs, there's an implicit hiccup in the overall hierarchy that can be seen as unfair.'