If 'anti-ageing' is over, why are botox/fillers in under 35s on the rise?
Honest blogger Stina Sanders explains why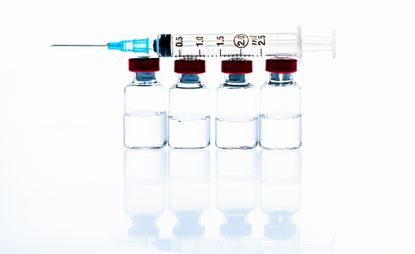 (Image credit: VOISIN/PHANIE/REX/Shutterstock)
Honest blogger Stina Sanders explains why
Last week, Allure magazine announced that the publication will no longer use the term 'anti-ageing'. The reason behind this radicle idea is to reinforce the message that ageing is inevitable and that it's something we all have to face (no pun intended).
I agree with Allure that there is no stopping us from getting older and that it's a natural process of this wonderful thing we call life. But my issue with Allure's stance is what's the problem with being anti-ageing?
Why would me wanting to slow down the process of ageing by freezing my wrinkles be a bad thing?
I'm 26. Admittedly I don't have many wrinkles but I can see my crow's feet forming as well as my frown line. Part of me likes my face changing and the other part would rather look as youthful as I can, whether that's through fillers or expensive creams. And here lies my point; I want to do whatever keeps me happy.
If I want to iron my face to the point where people think I always look surprised, then I will. If someone would rather have their face move to show enough expression, then that's fine too. It's your body and you can decide what you want to do with it - as can your mum, sister and friend.
Whether you are against anti-ageing or not, it's your choice to how you want live your life.
For those who think the majority of people would rather grow old gracefully, you'd be very wrong. In fact, a 2015 study found 64% of plastic surgeons saw an increase in young people under 30, getting aesthetic procedures like Botox.
Facial aesthetics and oculoplastic surgeon Dr. Maryam Zamani says that there is 'absolutely a rise in my practice of young, educated women under the age of 35 wanting to educate themselves about potential small procedures to tweak/maintain themselves. The increasing demand for cosmetic surgery among youths could be attributed to higher disposable incomes, media portrayal and reduced stigma of cosmetic procedures. Similar to eating well, exercising and maintaining overall health and well being, cosmetic procedures too play a role in our quest to live well, feel well and to look well.
'I personally believe that coupled with a healthy overall lifestyle that includes exercise and eating well, skincare and aesethetic maintenance plays an important long term role in delaying more invasive procedures,' admits Dr. Maryam. 'Moreover, with the increasingly large role of social media and the honesty of talking about what individuals do helps remove some of the stigma of the era of over inflated lips/cheeks/ faces because the trend now is too do small tweaks to look well rather than done. Beautifully done aesthetic procedures are confidence boosters and are often done without anyone noticing drastic changes.'
It's clear this surge of popularity isn't slowing and recently there have been debates as to whether the rise in cosmetics procedures is seriously damaging to younger people. Of course, all surgery can be dangerous and this should never be ignored. However, if someone wants to change something that is bothering them, then they should not be criticised.
At 13, I had cosmetic surgery to correct a disfigured eye and occasionally I get Botox and lip filler when I want it. No, it hasn't changed my life but it does boost my confidence. Don't get me wrong, I appreciate aesthetic treatment isn't the answer for everyone and I truly believe if someone wants to change the way they look to impress other people, then they really shouldn't do it. You should only ever consider surgery if you believe it will make you happy and improve your self-esteem.
As a society we shouldn't be quick to judge those who are for or against anti-ageing. It's a matter of supporting people through whatever choice they take. As long as they're not hurting themselves or anyone else, it doesn't matter. What's important is if you feel good within yourself. Wrinkles or no wrinkles.
After all, life is to be enjoyed and not to follow unnecessary rules. Let people live how they want and you do you!
Celebrity news, beauty, fashion advice, and fascinating features, delivered straight to your inbox!