How open mic nights and feminist films are helping fight intergenerational prostitution in India
'They had to speak up but they didn't know how.'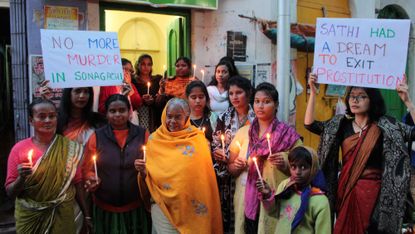 'They had to speak up but they didn't know how.'
Words by Will Brown
A group of young girls huddle around a projector screen in a small community centre in Kolkata, India. A few hundred metres away, over a thousand women sell themselves for as little as 200 rupees (£2.50) to a man at least ten times a day in Munshiganj, one of the city's many red-light districts.
Across India, massive rural-urban migration, sexually deprived young men, and high rates of female infanticide have resulted in an insatiable demand for young sex workers and forced marriages.
The girls and women in the centre are victims or prime targets of the sex industry. Many of the girls' mothers are local sex workers trapped by debts and poverty. The girls, aged 9 to 16, have been taught they're worth less than men their entire lives and they're at high risk of being forced into prostitution by human traffickers, pimps or even their own families.
But social workers are teaching them a simple thing - they can fight back.
The girls are being taught about gender oppression and global feminist movements. The film Dangal is a feminist Bollywood film about a wrestler who trains his two daughters to fight men in local competitions. When the wrestler's daughters initially line up to fight with the village's men they're not taken seriously and the men smirk. But the girl's quickly shatter any notion that women are worth less than men.
The girls watch the screen intently and giggle as the wrestling duo humiliate one sneering man after the other. One girl, Samreen*, 14, grins ear-to-ear as Gita, the main character, flips her opponent. Samreen is the daughter of a local sex worker, and until recently was married to a sexually exploitative and abusive husband. She's not used to seeing men pushed around.
'We want to inspire them with different feminist figures and to provoke a conversation about gender roles,' explains Laboni Basu, Apne Aap's local director. 'We want to give them different options in life.'
In Hindi, 'Apne Aap' means 'Self-empowerment'. The organisation runs small centres across India. One of its main goals is to create safe forums for victims of trafficking and commercial sexual exploitation and to help them campaign for different options in life.
Women and girls read the works of feminists like Gloria Steinem and Alice Walker and take part in Open Mic sessions to build their confidence. Activists even show them films like Bend it Like Beckham to help break gender stereotypes.
But women are also given the tools to fight for a better life. They're trained in how to navigate the complex Indian legal system, how to file cases with the police and speak up loudly in court. They're shown how to run collectives and activists teach them how to write articles about their lives in the organisation's paper, the Red-light Dispatch.
It's all part of a huge national fight against sex trafficking. Prostitution itself isn't technically illegal in India. But all the activities associated with it are, such as soliciting a client, trafficking a person into the sex trade or running a brothel.
However, a repressive caste system, mass poverty, low education levels and police corruption allow human traffickers to operate a business worth billions of pounds, with official statistics showing that on average around 400 women and children go missing every day. Today, campaigners estimate that there are between three and nine million victims of sex trafficking in India according to Reuters Trust.
In the poorer rural areas of the subcontinent, activists say that a young virgin girl can be bought by an agent for as little as £100. The agent can make thousands of pounds selling the girl onto a brothel in one of India's many booming cities.
Once they enter the prostitution system, women and their daughters become trapped in the trade by debt, threats, social discrimination and drug addiction. Social workers say that by the time the women are in a financial position to escape, they're so abused and crushed that they hold little hope of a life outside the sex trade.
'When I [first] went inside the red-light areas, I could see that the women were so disenfranchised, but nobody could talk about it.,' says Ruchira Gupta, the founder of Apne Aap. 'I've always believed in the power of the voice to change things…I wanted the women to speak up and collectivise but they were too crushed and isolated by the traffickers. They had to speak up but they didn't know how.'
'The change is incremental,' explains Ruchira Gupta. 'It's not like giving out 100 condoms in a week.'
But after a decade and a half of working with communities across India, the changes are becoming increasingly apparent. In centres across India, Apne Aap's activists have succeeded in removing some girls from 150-year cycles of intergenerational prostitution. Overall the organisation has got over 21,000 women, girls and family members out of the sex industry.
'It's about building up self-confidence over the years and how the community also transforms along with her [sex-worker or daughter],' continues Mrs Gupta, 'But each time a woman speaks up, she breaks a barrier inside herself.'
The day after the film showing in Munshiganj, Priya*, 9, reads out a poem to her class:
'Bird in a cage,
Bird in a cage,
I will break your bars,
And we will fly to the stars.'
When asked what she wants to be when she's older, Priya replies, 'I want to be a policewoman. I want to protect my family.'
The other girls shout-out in agreement.
* Names have been changed.
Celebrity news, beauty, fashion advice, and fascinating features, delivered straight to your inbox!