Life Stories: Gloria Steinem
An iconic feminist and prominent political activist, the 83-year-old has spent 50 years campaigning for women's rights. Today, she continues to inspire a legion of young fans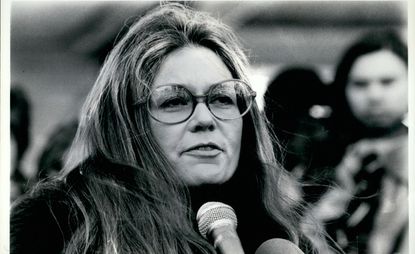 (Image credit: Rex Features (Shutterstock))
An iconic feminist and prominent political activist, the 83-year-old has spent 50 years campaigning for women's rights. Today, she continues to inspire a legion of young fans
Words by Andréa Childs
At the Women's March in Washington on 21 January this year, a crowd gathers to listen to social activist, abortion campaigner and feminist icon Gloria Steinem. Over chants of 'Glor-i-a, Glor-i-a', she roars her response to Donald Trump's threats to women's hard-won freedoms. 'We will not be quiet, we will not be controlled… This is a day that will change us forever, because we are all together.' Afterwards, mothers and daughters flock to the 82-year-old activist who came of age in the 'bra-burning' 70s. Actress Lena Dunham later describes her as 'more magical, more profound and more lovely than I could have imagined… a formative feminist who generously lets us know she is still learning herself.'
Steinem is a survivor. She is the loved but controversial figure who links the early days of feminism (when forerunner Betty Friedan urged women out of the kitchen and into the workplace) with today's campaigners for gender equality from Everyday Sexism Project founder Laura Bates to actress and UN Women goodwill ambassador Emma Watson. Steinem was mocked for coming late to the cause (in her early thirties) and seeming to have it both ways: a feminist who had relationships with powerful men, yet took her cause seriously. And yet today, Steinem appears even more ahead of her time. She's someone who wears gold miniskirts, manicures her nails and has streaks in her hair. No wonder designer Prabal Gurung said she was the inspiration for the 'modern feminism' of his SS17 show.
Born in Toledo, Ohio, in March 1934, Steinem was the second daughter of Leo and Ruth Steinem. Her father was a travelling antiques salesman, who took the family on the road with him. Steinem didn't attend school regularly until she was 11. Her mother was loving, but had a breakdown before she was born and suffered from crippling depression. After her parents divorced, Steinem spent years caring for her while her sister was at college. 'She was an invalid; a woman to whom I brought an endless supply of toast and coffee, in a child's version of what meals should be,' she wrote in her 1983 book Outrageous Acts And Everyday Rebellions. While looking after her, Steinem developed her own issues with food – colleagues would say that she kept her fridge empty, but then binge-ate biscuits. 'You can't be not parented the way she was and not do something with that pain,' said her friend Letty Cottin Pogrebin, with whom she went on to found the Ms. Foundation for Women.
Later, Steinem discovered that her mother had once been a pioneering journalist, but gave up her career for her family, even after falling in love with another man. When she asked her mother why she hadn't followed her own path, she replied, 'Then you wouldn't have been born.' Steinem was determined not to let history repeat itself. When she fell pregnant in 1956 at 22, she broke off her engagement with the father and travelled around India for two years on a research grant, first stopping en route in London to have an abortion. She dedicated her 2015 book My Life On The Road to the doctor who performed the then-illegal procedure, and who in return simply asked her to 'do what you want to do with your life'.
In 1958, Steinem returned from India to New York and began working as a journalist. She found it difficult to be taken seriously, recalling a cab ride in which prominent journalist Gay Talese leant across her to tell author Saul Bellow, 'You know how every year there's a pretty girl who comes to New York and pretends to be a writer? Well, Gloria is this year's pretty girl.' But her looks (and her guts) gave her the opportunity to go undercover as a 'bunny' at the Playboy Club in 1963, in a pioneering piece of investigative journalism. She got a job at the famous haunt (after first being tested for STDs) and donned the blue corset, tail and ears. The piece exposed the sexual exploitation of its female employees, including shocking details such as the regular internal examinations the girls endured by staff. It garnered global publicity and owner Hugh Hefner agreed to abolish the tests. But the 'ex-bunny girl' tag she was given by the media would dog her career, as the only job offers she got were to go undercover as a prostitute to reveal the truth about sex work. Then in 1968, she was relieved to land a serious column for New York Magazine, covering the presidential campaigns of Richard Nixon and Eugene McCarthy. Her own political activism had begun in her last year of school, when she volunteered in the office of Democratic Party presidential candidates, but spoke openly about how women were treated as second-class citizens. 'Male staffers made decisions, and women carried them out, even women old enough to be their mothers,' she says in My Life On The Road.
A year later, when covering an abortion 'speak-out' about the poor treatment of women seeking terminations, Steinem first identified herself as a feminist. 'It made some sense of my own experience – I'd had an abortion and never told anyone. Things were only taken seriously if they also happened to men.' So began a life of activism that has seen her travel the globe to campaign for equality. She's famous for claiming, 'A woman needs a man like a fish needs a bicycle', and for saying, in response to a reporter who said she didn't look her age, 'This is what 40 looks like. We've been lying so long, who would know?' Steinem launched feminist magazine Ms in 1973. It covered then-taboo topics such as domestic violence, and campaigned for equal pay and reproductive rights. She also founded the Women's Media Center with Jane Fonda, is an adviser to Our Bodies Ourselves, which advocates for proper information on women's reproductive health, and is a board member of human rights organisation Equality Now. 'When I began working in business, I heard the creaking of workplaces adapting to women,' says Avivah Wittenberg-Cox, founder of 20-first, a leading consultancy in building gender-balanced companies. 'As a powerful predecessor to feminists like Sheryl Sandberg, Steinem was key to that. The values her book Revolution From Within: A Book Of Self-Esteem talks about – authenticity, vulnerability, honesty – are now the subject of thousands of TED talks, but these are issues she raised years ago.'
Passion for the cause didn't mean no private life, though. Steinem had many relationships, including an unlikely romance with controversial real-estate developer Mortimer Zuckerman. It sparked a rumour that the perennial bachelor had promised Steinem that he would marry her if she could have his child. Gossip circulated that she was a gold-digger and had been having fertility treatment. In fact, there was another reason for her much discussed frequent medical appointments – Steinem had been diagnosed with breast cancer, aged 50. 'After 20 years, I couldn't do it any more,' she said. 'I'd been through five stages of burnout; I got breast cancer. The universe was telling me to slow down.'
Steinem never did have children. 'I just discovered I didn't have to,' she said. 'For a while, I imagined I'd adopt. In my mind the child was a seven or eight-year-old girl. Finally, I had to realise that was me: I was trying to save myself at that age.'
In 1999, Steinem met South African entrepreneur and anti-apartheid activist David Bale (father to actor Christian Bale) at a fundraiser. 'He was the most living-in-the-present man I've ever met. He forced me to live like that, which was a big gift,' she said. To the surprise of many, they married a year later, in a Cherokee ceremony at the home of her friend Wilma Mankiller, the first female chief of the Cherokee Nation. But their happiness was to be short-lived. Tragically, Bale died of brain lymphoma just three years later.
Today, aged 83, there's still no sign of Steinem slowing down. She campaigned for Hillary Clinton in the recent US elections and was awarded the Presidential Medal of Freedom by Barack Obama last year. She spent her 80th birthday riding an elephant in Botswana and is picking up an army of new young fans with her latest TV series on global womanhood on Vice. It might seem depressing that she's fighting the same battles 60 years after she first became a feminist, but Steinem is in it for the long haul. 'It's addictive,' she admits. 'You think, if we just did this and that, maybe that would change! I think of it as my Ms Fix It complex.'
Celebrity news, beauty, fashion advice, and fascinating features, delivered straight to your inbox!
The leading destination for fashion, beauty, shopping and finger-on-the-pulse views on the latest issues. Marie Claire's travel content helps you delight in discovering new destinations around the globe, offering a unique – and sometimes unchartered – travel experience. From new hotel openings to the destinations tipped to take over our travel calendars, this iconic name has it covered.