Strict diet two days a week could cut breast cancer
Research suggests that a strict diet maintained two days a week could reduce the risk of breast cancer by 40%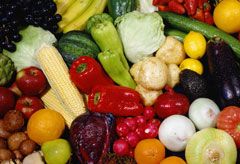 Research suggests that a strict diet maintained two days a week could reduce the risk of breast cancer by 40%
A staggering 46,000 women develop breast cancer each year, with the disease killing more than 12,000 annually.
But according to scientists, a strict diet of vegetables, fruit, milk and a mug of Bovril two days a week could help prevent breast cancer.
The researchers studied 50 overweight women aged between 30 and 45 who were deemed to have a high genetic risk of developing breast cancer.
The study found that by decreasing the calorie intake to just 650 calories twice a week, the women had significantly lower levels of cancer inducing hormones in their blood.
Dr. Michelle Harvie, who led the study at the Wythenshawe Hospital in Manchester said: 'On a two-day diet you can restrict your calories far more than if you were on a diet every single day.
'This affects all the cells in the body, particularly the ones in the breast, as it cuts off their food supply, making them more stable and less likely to divide and form cancer.'
The diet consisted of four portions of vegetables, one piece of fruit, two pints of semi skimmed milk and either a cup of hot Bovril, a diet soft drink or green tea.
After six months, scientists found that the women had decreased levels of cancer causing hormones (on average 40% less leptin and 25% less insulin) in their blood and had lost an average of a stone in weight.
It has long been known that losing weight can help prevent breast cancer, with obesity believed to be responsible for a third of all cases.
Stephen O'Rahilly, Professor of Clinical Biochemistry and Medicine Director at Cambridge University said: 'The major challenge is that people find it extremely difficult to keep weight off and one or two years later most people who have been on a diet have returned to their pre-diet weight.'
Celebrity news, beauty, fashion advice, and fascinating features, delivered straight to your inbox!