Stress is as contagious as a cold
If you are constantly surrounded by other people's worries in the office you could be at risk of catching their stress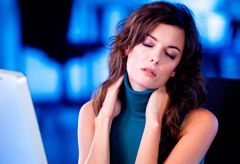 (Image credit: Rex Features)
If you are constantly surrounded by other people's worries in the office you could be at risk of catching their stress
A new study reveals that it's not just the common cold that does the rounds in the office. You can also catch other people's stress.
Professor Elaine Hatfield, a psychologist from the University of Hawaii, claims that if you sit by a whinger at work you are at risk of catching passive or second-hand stress and anxiety, which can quickly circulate the office.
'People seem to be capable of mimicking others facial, vocal and postural expressions with stunning rapidity,' she says. 'As a consequence, they are able to feel themselves into those other emotional lives to a surprising extent.'
The study suggests people are effectively sponges, soaking up emotions emitted by those around us. As we absorb other people's stress, we start to focus on the things that are troubling us too, due to the constant stream of discontent acting as a depressant.
Professor Hatfield found that we not only take on our friends and colleagues negative attitudes but we also subconsciously take on their stressed out body language, causing us to hunch our shoulders and frown when talking to them.
'Women are more at risk because they tend to be more in tune with other people's feelings,' says Professor Hatfield.
Celebrity news, beauty, fashion advice, and fascinating features, delivered straight to your inbox!