Starting the day with an egg will keep you awake
Forget the sweet snack, scientists have found that egg proteins help us stay awake and feel alert throughout the day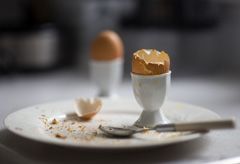 (Image credit: REX)
Forget the sweet snack, scientists have found that egg proteins help us stay awake and feel alert throughout the day
It's not uncommon to experience an afternoon lull, but instead of reaching for chocoate as a pick-me-up, start the day with an egg.
Experts claim that proteins found in eggs keep the body feeling alert and are far more effective than carbohydrates found in biscuits, chocolate and sweets, which are oftern relied on for an energy boost.
Cambridge University researchers looked at how nutrients affect brain cells and found that a mixture similar to the protein content of egg whites activated these cells, triggering the release of the stimulent orexin, which helps keep us feeling energised.
'What is exciting is to have a rational way to tune select brain cells to be more or less active by deciding what food to eat,' says researcher Dr Denis Burdakov.
Dr Burdakov urges people to choose egg on toast over jam because, despite the two containing a similar number of calories, adding protein to your diet tells the body to burn more calories.
Furthermore, the British Nutrition Foundation recently concluded that the type of cholesterol found in eggs has minimal affect on raising the risk of heart attacks.
Celebrity news, beauty, fashion advice, and fascinating features, delivered straight to your inbox!