South Africa considers law to ban pregnant drinking
Most women avoid drinking during pregnancy, but South Africa are considering changing the law to ban the sale of alcohol to pregnant women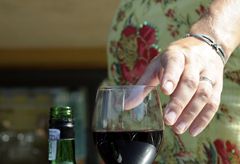 (Image credit: REX)
Most women avoid drinking during pregnancy, but South Africa are considering changing the law to ban the sale of alcohol to pregnant women
South Africa's proposal to ban the sale of alcohol to pregnant women is designed to cut Fetal Alcohol Syndrome (FAS), which causes mental and physical defects in the womb.
The move will penalise off-licences, supermarkets, bars and restaurants for supplying alcohol to pregnant women in the same way it does to those underage or drunk.
'We understand the sentiment behind it - we do have a problem with FAS in South Africa and clearly something needs to be done about it,' says director of the Association for Responsible Alcohol Use, Adrian Botha.
But he says the Gauteng Liquor Bill would be impossible to implement. 'How do you identify without making a fool of yourself and hurting someone, like a pregnant woman in her first trimester?'
Francois Grobbelaar, head of Fetal Alcohol Syndrome charity FASFacts, says anything that will raise awareness about the increasing problem is good.
'A large number of South Africans are misinformed about FAS,' he says. 'When we tell people that drinking just one or two glasses can harm their baby, they don't believe us.'
South Africa has one of the biggest alcohol consumption rates in the world, with each adult drinker consuming an average of 35 litres of alcohol a year, according to the World Health Organisation.
Celebrity news, beauty, fashion advice, and fascinating features, delivered straight to your inbox!