Reduced salt intake doesn't make you healthier
Reducing your daily salt intake will not prevent you from suffering from heart attacks and strokes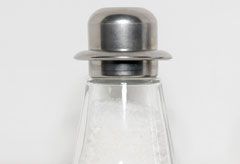 (Image credit: Rex Features)
Reducing your daily salt intake will not prevent you from suffering from heart attacks and strokes
Resisting that sprinkling of salt on your chips will not help reduce your chance of suffering a heart attack or stroke, according to a new study.
Researchers from Exeter University looked at seven published studies involving nearly 6,500 people and declared there was strong evidence to conclude that cutting back your daily intake of salt would not cut your chances of early death through heart disease.
'Perhaps surprisingly we didn't find any statistically significant reduction in death or cardiovascular events such as heart attacks and strokes,' says lead researcher Rod Taylor.
The authors of the Cochrane review believe that the benefits from a low-sodium diet have in fact been 'overestimated'.
Since the report was published, however, there has been a severe backlash from several scientists and nutrition experts.
'It is very disappointing that the message from this small review indicates that salt reduction may not be beneficial,' says Katharine Jenner, of Consensus Action on Salt and Health.
'This is a completely inappropriate conclusion given the strong evidence and the overwhelming public health consensus that salt raises blood pressure which leads to cardiovascular disease.'
In recent years, several campaigns have been launched to encourage the public to cut down on foods with a high salt content. UK Government guidelines advise we consume no more that 6g daily.
The Government has also been working closely with food manufacturers, restaurants and fast-food companies to urge them to reduce the quantity of salt in their produce.
The best advice is to exercise, eat plenty of fruit and vegetables and not smoke in order to maintain a healthy heart and reduce the risk of heart attacks and strokes.
Celebrity news, beauty, fashion advice, and fascinating features, delivered straight to your inbox!
Natalia is a health journalist with 14 years experience in the publishing industry. She has worked for a number of well known magazines and websites including Marie Claire, Woman&Home, Top Sante, Boots and The Telegraph. She likes to think she practices what she preaches when it comes to health and fitness. Her athletic prowess began early. A keen fencer for 13 years, she wielded an epée for Olympic Team GB during her teenage years. She likes to think she made sword-fighting cool before Game of Thrones came along! While working on her sporting performance with the team, she also participated in a lot of nutrition and psychology training, When it comes to time off, you'll most likely find her up a mountain somewhere. It seems holidays have become a time for climbing several thousand feet, rather than chilling out. She's now hiked eight of the major mountain ranges across four continents – including the Appalachians, the Smokies, the Sierra Nevadas (she spent her honeymoon hiking to the top of Half Dome), as well as hitting the summits of Snowdon, Pen-Y-Fan (Brecon Beacons), Table Mountain in South Africa, the Blue Mountains in Australia and the Atlas Mountains in Morocco. She's also passionate about all things health, particularly vaccinations, and will happily jump on her soap box at any given opportunity to talk about their benefits to anyone who will listen!