Pomegranates: The new stress-buster
Research reveals pomegranate juice as the new way to combat stress in the workplace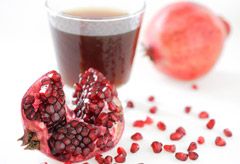 (Image credit: Rex Features)
Research reveals pomegranate juice as the new way to combat stress in the workplace
Missed your bus, forgot your umbrella in the pouring rain and have an 11am deadline pressing? Not a good start to a Monday morning...
Relax, a new stress-buster has been discovered to help melt away your worries.
Better than a glass of Pinot, pomegranate juice has been cited as the best way to dispel your worries and help you calm down during a stressful day at work.
The study, which was carried out by Queen Margaret University, Edinburgh, revealed that pomegranates can significantly reduce the level of cortisol (stress hormone) in saliva, as well as reducing systolic and diastolic blood pressure, making you feel more relaxed.
With long hours, constant pressures of deadlines and presentations and lengthy commutes, it is no surprise we women are stressed out. However, research has shown that by drinking 500ml of pomegranate juice every day you can decrease your stress levels and help you feel more calm and collected in the workplace.
'On the basis of these findings there is a justified argument for busy workers to drink pomegranate juice to help alleviate chronic stress and maintain good health,' says Dr Emad Al-Dujaili who led the study.
He found that all 60 of his volunteers reported being more enthusiastic and less distressed after having the fruit drink.
Pomegranates have also been credited with delivering a wide-ranging health benefits, including lowering cholesterol levels and reducing the risk of Alzheimer's and arthritis.
So if you're feeling stressed out try consuming your daily intake of pomegranate juice…and maybe also think about booking that long overdue holiday!
Celebrity news, beauty, fashion advice, and fascinating features, delivered straight to your inbox!
Natalia is a health journalist with 14 years experience in the publishing industry. She has worked for a number of well known magazines and websites including Marie Claire, Woman&Home, Top Sante, Boots and The Telegraph. She likes to think she practices what she preaches when it comes to health and fitness. Her athletic prowess began early. A keen fencer for 13 years, she wielded an epée for Olympic Team GB during her teenage years. She likes to think she made sword-fighting cool before Game of Thrones came along! While working on her sporting performance with the team, she also participated in a lot of nutrition and psychology training, When it comes to time off, you'll most likely find her up a mountain somewhere. It seems holidays have become a time for climbing several thousand feet, rather than chilling out. She's now hiked eight of the major mountain ranges across four continents – including the Appalachians, the Smokies, the Sierra Nevadas (she spent her honeymoon hiking to the top of Half Dome), as well as hitting the summits of Snowdon, Pen-Y-Fan (Brecon Beacons), Table Mountain in South Africa, the Blue Mountains in Australia and the Atlas Mountains in Morocco. She's also passionate about all things health, particularly vaccinations, and will happily jump on her soap box at any given opportunity to talk about their benefits to anyone who will listen!