One in four women are lacking vital iron
A new survey reveals many health conscious women are failing to get enough iron from their diet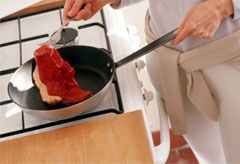 (Image credit: Rex Features)
A new survey reveals many health conscious women are failing to get enough iron from their diet
The National Diet and Nutrition Survey conducted by YouGov has revealed that women who favour chicken and fish over red meat are missing out on vital iron intake.
British women are unaware of the importance of iron in facilitating the transport of oxygen, the release of energy and in promoting the function of the body's immune system.
Low levels of iron can result in a number of side effects, including fatigue, general lack of energy and a decreased ability toconcentrate.
Iron is one of the most difficult nutrients to absorb, so it is not unusual that more and more women are struggling to get enough from their daily diet.
'Iron nutrition presents a real challenge, especially for non red meat eaters who stick to chicken and fish,' says Dr Chris Steele, resident GP on ITV's This Morning.
'It is commonly recognised that meat, especially red meat, is the best source of iron with up to 22 per cent of the iron available absorbed by our bodies, compared to one to eight per cent from eggs and vegetables.'
Switiching a couple of meals a week to foods high in iron such as steak, liver and watercress could make you feel a lot more energetic and help keep your immune system fighting fit.
Celebrity news, beauty, fashion advice, and fascinating features, delivered straight to your inbox!