Britain suffering obesity crisis
The number of British patients needing urgent treatment for obsetity has risen tenfold in the last decade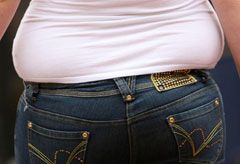 The number of British patients needing urgent treatment for obsetity has risen tenfold in the last decade
Official figures have revealed the terrifying scale of Britain's obesity crisis. A shocking 7,214 people were admitted to hospital needing weight loss surgery last year, while 1,450 were prescribed some form of anti-obesity drug.
Women seem to be the worst culprits, accounting for a shocking 80% of obesity-related hospital admissionsfor conditions including heart disease and respiratory problems.
Figures show that 8,074 women were admitted to hospital last year with breathing difficulties, heart problems and organ failure, in comparison to 2,495 men.
Commenting on the figures, Tam Fry from the National Obesity Forum says: 'This will prove to those who wish to dismiss the severity of the obesity crisis just how bad it is, and the rise in surgery is particularly revealing.'
Almost a quarter of British adults are obese, equating to 24% of women and 23% of men. And with gastric bypass operations costing between £8,000 and £14,000, and bands costing between £5,000 and £7,000, many health trusts have started to restrict procedures because they are so expensive.
'The present government cannot be held to account for obesity as it exists today, but it must be held to account if its policies are not better-focused to tackle it from now on,' says Fry.
A Department of Health spokesperson says: 'We need a new approach to tackling obesity. That is why the coalition wasted no time in publishing a public health white paper last year.'
CLICK HERE FOR 10 HEALTHY AFTERNOON SNACKS
Celebrity news, beauty, fashion advice, and fascinating features, delivered straight to your inbox!