Menopause leave trial rejected by ministers for fear it "discriminates against men"
Experts reckon the rejection of the pilot threatens to put both the economy and women in work at risk.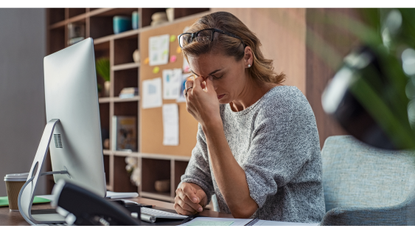 (Image credit: Getty images)
Menopause has finally been in the spotlight over the last few years - largely thanks to celebrities like Davina McCall and Penny Lancaster openly discussing their own menopause symptoms, encouraging other women to do the same, and petitioning for better rights.
It seemed like things were moving in the right direction - just last year, the government appointed a female health minister and HRT began to be sold over the counter.
In July 2022, the Cross-Party Women and Equalities committee put forward twelve recommendations for menopause rights in the UK. This was after they published findings which concluded that the UK's lack of menopause support is currently causing the economy to "haemorrhage talent" by forcing women out of work.
Yet, sadly the proposal to change current legislation and protect women experiencing menopause was yesterday rejected by MPs.
Five of the twelve suggestions have been rejected outright, including the recommendation for menopause to be made a "protected characteristic" in the Equality Act. This would have made it illegal to discriminate against those who are struggling at work due to menopausal symptoms.
So, why were the suggestions rejected? Well, it's thought members of parliament feared the proposal could discriminate against men.
The official response states that they wish to avoid "unintended consequences which may inadvertently create new forms of discrimination, for example, discrimination risks towards men suffering from long-term medical conditions."
To add to the disappointment, one of the other ideas also rejected by the government was the large-scale menopause leave pilot, which they deemed unnecessary and called "counter-productive".
One government spokesperson defended the move, saying they have "put women's health at the top of the agenda as part of the first-ever women's health strategy for England."
"We are implementing an ambitious programme of work with the NHS to improve menopause care so all women can access the support they need," they continued.
What does this mean for you?
Well, it's time to defend women's rights. The suggestions were designed to make sure women don't have to continue dropping out of work because of their menopause symptoms - rather, give them the support they need during one of the most difficult times in their lives.
It's essential that we support the movement until the necessary change is made.
Speaking exclusively to Marie Claire UK about the move, Doctor Shirin Lakhani, who treats women with menopause symptoms at her clinic Elite Aesthetics, shares that it's "very disappointing". "The government has rejected five of the Women and Equalities Committee's recommendations, [all of which were] aimed at giving working women more rights."
"Women should have access to the required education and treatments needed to successfully navigate menopause and, should they then require time away from work, be able to do so without discrimination," she continues.
Did you know? Research by the Fawcett Society found that one in ten women aged between 45 and 55 have left employment because of their menopause symptoms. Plus, 14% of menopausal women say they have reduced their hours and 8% had not applied for a promotion.
"Women are crying out for help and need support," Doctor Lakhani continues. "Too many are leaving employment early because they cannot cope with menopausal symptoms and this is not good for society as a whole as we are letting talented women leave the workforce too early. It's not good for the economy."
We'll leave you with this - women of menopausal age (that's 45 to 54, FYI) make up 11% of all people in employment and 23 per cent of all women in employment in the UK. That's 3.5 million women. "Their importance should not be underestimated," adds Doctor Martin Kinsella.
Celebrity news, beauty, fashion advice, and fascinating features, delivered straight to your inbox!
Dionne Brighton is a writer at Marie Claire UK, specialising in all things shopping, beauty and fashion. Born and raised in North London, she studied Literature at the University of East Anglia before taking the leap into journalism. These days, you can find her testing out the latest TikTok beauty trends or finding out what the next full Moon means.